Apple May Launch the iPhone 8 With a Major Feature Missing
This could be a dealbreaker for some.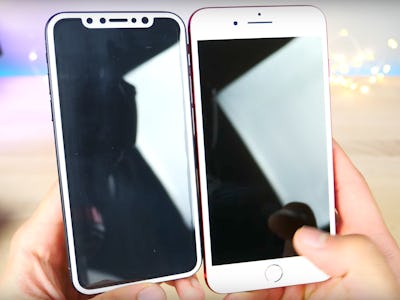 EverythingApplePro/YouTube
The iPhone 8 could launch without one of its most anticipated features. Apple's next flagship smartphone, set to introduce a radical redesign to the company's lineup, will overhaul a number of features, like the display, camera, and fingerprint scanner, but the charging system employed since the iPhone 5 may stay the same when the phone hits shelves later this year. Although rumors suggested Apple would launch the iPhone 8 with some sort of wireless charging system, it appears the feature has been shelved until sometime after launch.
John Gruber, a blogger who has followed Apple for a number of years, told Twitter followers on Saturday that the upcoming device may not include inductive wireless charging at launch. This type of charging, similar to that found on many Android phones, involves placing the device on a pad to start charging. Although some companies like Ossia and Energous are exploring wireless charging systems that work over the range of a few meters, it appears Apple may skip this technology for this release cycle.
Gruber revealed that the charging system will be sold separately to the iPhone 8 itself, which could help bring prices down. With a 5.8-inch OLED screen, a dual lens camera system, and a new glass exterior, the iPhone 8 is expected to sell for a higher price than the iPhone 7S and 7S Plus, expected to launch alongside the phone. Removing the wireless charger from the main package could help bring prices down.
Unfortunately, it's unlikely the pad will launch with the iPhone, as the software won't support the feature at launch. Instead, users may have to wait for a future iOS update that brings the feature to the iPhone. The update, which may come with the version number "iOS 11.1," would enable the hardware to interact with the inductive charging pad.
It wouldn't be the first time Apple has made a similar move. The iPhone 7 Plus, which first introduced the dual camera system, didn't include "Portrait mode" until a software update was released soon after launch. This feature takes the depth information from the secondary lens to blur that background behind the subject, making the photo appear as if it came from a high-end DSLR camera. Much like Portrait mode, a lack of inductive charging at launch is unlikely to be a deal breaker, but as the iPhone 8 has been anticipated for some time, it would be a sight disappointment.