Ossia Just Released a Wireless Charger Kit That Works Like Wifi
If you're a smartphone manufacturer, you can now jump in.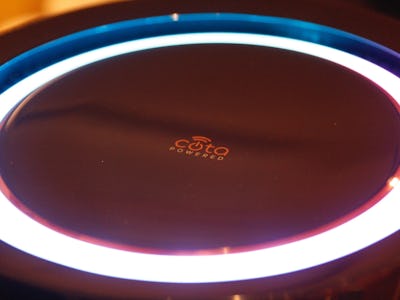 Mike Brown/Inverse
The days of plugging in your smartphone every night are about to come to an end. Tech firm Ossia has developed a wireless charging system, named Cota, that can charge a phone cross-distance, drawing power from a base station similar to wifi. On Thursday, that vision came one step closer to reality, as the company released the reference design kits for its Cota wireless receivers.
"People are still wondering whether wireless power is possible," Ossia founder and CTO Hatem Zeine tells Inverse. "We've been demonstrating wireless power for over three years now, in public, and we've been doing it in private for another three years before that!"
Starting now, Ossia partners are free to build wireless charging technology into their products, with all the documentations, hardware, software, and licenses provided on a contractual basis. It's a complete solution: the kit allows developers to build a fully-functional Cota system. Alongside this kit, the company will continue working with unnamed "strategic partners" to develop commercial uses for the product. Smartphones that make use of the technology could reach the market as soon as the end of 2017.
It's important to note that this is not the same as the "wireless charging" that's already out there. Standards like Qi and Powermat, used by many Android devices, require placing the phone down on a pad to draw power. That's a step forward, as you don't need to physically plug anything into the phone, but Ossia's tech is full-on, no-contact-required, wireless charging.
"So much is happening, it's a great time to be working on wireless power!" Zeine says.
Ossia has made great strides towards this milestone. The company was demonstrating its technology at the Las Vegas Consumer Electronics Show in January, an event it plans to repeat for the coming year. In April, Inverse went hands-on with the charger, trying out a prototype model that provided less than a watt of power to a smartphone as it moved around the room. Wall chargers tend to provide five watts of power, but Ossia claims that when a phone is within range of the wireless base unit, under normal use the battery will stay at 100 percent charge.
Zeine says that other companies claim to provide higher power across a room, but Ossia has actually demonstrated its tech for the world to see. "The others, frankly, people ask me how we compare, and my main challenge is that they don't have any public demos or documentation to show how these systems perform," he says. "We're very open about our system's capabilities."
It's been a big month for Ossia. On December 1, the company announced that Cota has been proven to meet all FCC safety and interference requirements, meeting the same thresholds as wifi and Bluetooth. It's a promising sign that Cota will pass the approval process.
"We feel that that is a milestone towards wireless power that has never been achieved before," Zeine says.
Ossia is leading the charge (no pun intended) in the wireless revolution. Others are also rumored to join next year: Apple is reportedly planning wireless charging for its 2017 iPhone, and researchers at Duke University have found a way to build a TV-shaped base station to charge multiple devices in a room. This time next year, the classic wire-plugged-into-the-wall may seem like a quaint relic.
Update 12/15: An earlier version of this story described Zeine as Ossia's CEO. He is the founder and CTO.