'Friends' Is Still Incredibly Popular Around the World
It's the third-ranked English show in India and Pakistan.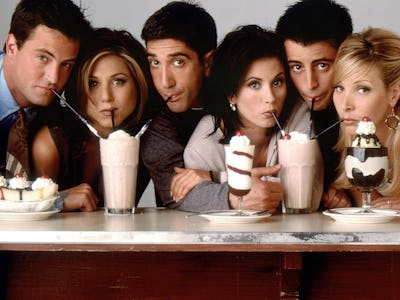 Jennifer, Courteney, Lisa, Matt, Matthew, and David haven't made a new episode of Friends since 2004, but their iconic sitcom still ranks among the most watched and most talked about shows around the world. And it turns out the Friends are particularly popular with the 1.5-billion residents of India and Pakistan.
Data provided by Parrot Analytics shows that Friends was the third-most popular English-language show in India and Pakistan in recent months. It was also the 26th-most popular English-language show on planet Earth.
Parrot evaluates demand for shows across platforms through data on streaming, file-sharing, and online chatter, and more. It has announced partnerships with some big names, such as BBC and A&E, but not with many others, such as Netflix.
Friends was, of course, a big hit back in the day — so big that the stars (Anniston, Cox, Kudrow, LeBlanc, Perry, and Schwimmer) received an unprecedented $1-million per episode by the final two seasons of the ten-year run. But data shows that its legacy is equally impressive.
As for why Friends — a lighthearted show about six young adults living in a kind of sitcom simulacrum version of New York — remains so popular in the Indian subcontinent, there might be some answers.
Himel Sarkar speculated on Quora that it has to do with when the show came out: "India witnessed its first wave of economic liberalization in 1991 … More and more people could afford TVs and cable … So I guess for many Indians Friends was pretty much their first exposure to the American culture and the American way of life … And boy did we love it!"
An anonymous respondent to the same thread, apparently Indian, pointed to some radical concepts that made the show popular: "It is Okay to kiss. It is Okay to have sex before getting married. It is Okay to be a lesbian. It is Okay to drink alcohol. It is Okay to get a divorce if it's inevitable. It is Okay for a well-looked-after girl to leave it all behind and start from the bottom of the ladder."
Aditya Vivek observed on the same thread that "Friends" was more accessible than another hit urban sitcom from that time, "Seinfeld." "'Seinfeld was appreciated by people in the US because viewers found it unique. In an Indian context, the same can be said about 'Friends,'" he wrote.
Friends is also particularly popular in the Czech Republic, where it was the sixth-most-popular English-language show; Iran, where is ranked tenth; and the United Arab Emirates and Jordan, where it ranked eleventh.
Don't Miss: The 20 Most Popular Shows in the World Right Now*