As iPhone 8 Launches, Could Essential Phone Become Its Big Rival?
Android co-founder Andy Rubin wants to challenge Apple with his new phone.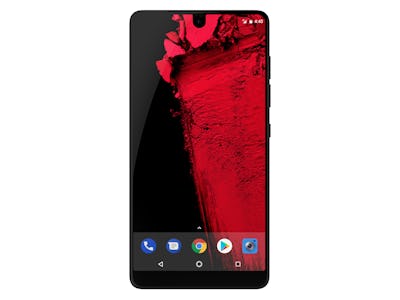 Essential
The Apple iPhone 8 launches Tuesday, 10 years after Steve Jobs first took to the stage and revolutionized the smartphone industry with the original iPhone. With hours to go before launch, the iPhone 8 rumors point to a device that could change the game all over again.
No smartphone launch can hope to rival the publicity or prestige of an iPhone debut, but one entirely new phone unveiled last month aims to have what it takes to go toe to toe with the iPhone 8. The Essential Phone intends to bring what its creator, Android operating system co-founder Andy Rubin, calls "real passion and craftsmanship" back to smartphones — a promise that recalls statements Steve Jobs made when introducing the original iPhone.
Essential has packed a lot into this device to edge out Tim Cook's next launch. Its biggest innovation — a lack of buttons — could prove revolutionary enough to reignite a stagnant industry.
Can Essential pull it off? Let's take a look:
Display
The Essential Phone packs a 5.71-inch LCD screen into a device smaller than the 5.5-inch iPhone 7 Plus. It reaches this by pushing the screen to the edges of the phone, even providing a notch to allow the camera to poke through. It has a resolution of 2,560 pixels by 1,312, meaning there's around 504 pixels per inch. That's about the same as other high-end Androids, albeit slightly lower.
The iPhone 8 may edge it out slightly, with recent rumors suggesting the phone will have a 5.8-inch display with a resolution of 2,800 by 1,342, for around 535 pixels per inch. These are marginal differences, though. Both are likely to look stunning.
Where the iPhone 8 may really pull ahead is on the extras. Since the iPhone 6S, Apple has shipped devices with pressure-sensitive displays for extra interaction. Push hard on an app icon, for example, and it will bring up a list of oPush hard on an app icon, for example, and it will bring up a list of options. On top of that, the next iPhone should use OLED technology for the first time, meaning blacks appear truly black. Essential, on the other hand, uses plain old LCD.
Security
Both phones leave little space for a front-side fingerprint scanner, so a new solution is needed. The Essential Phone places a fingerprint sensor on the rear of the device near the top, enabling fast unlocking. Recent leaks suggest the iPhone 8, on the other hand, is reportedly set to use a 3D facial scanning system that should authenticate in a fraction of a second. It's too difficult to call this one at this stage: Apple's system could work wonders, but Essential's decision to stick with proven tech may end out the smarter move.
Power
Essential uses the USB-C standard, the small new connector intended to replace both micro-USB and standard ports, while the iPhone 8 is expected to stick to Apple's own Lightning connector. The latter may be limited to the number of cord options available, but with the ubiquity of the iPhone, it's likely that you'll be just as able to find someone with a cable at short notice as you would a USB-C cord.
But where Essential offers a magnetic dock, Apple may choose to go for something more futuristic in the form of a wireless dock. Details are scarce, but this could enable a system similar to other Android flagships where users place their device on the pad and it instantly starts charging. This could prove simpler than a magnetic dock.
Cameras
Both phones have a number of bespoke camera features. On the iPhone side, a depth sensor could improve the Portrait Mode included on the 7 Plus that blurs the backgrounds around subjects. The Live Photos feature, which captures a short piece of video with every photo, will receive a boost with iOS 11 to bring motion blur effects to photo edits. On the Essential side, the rear clips support a 360-degree camera addition, allowing users to capture panoramic shots in an instant.
The Essential Phone has a rear dual lens system that takes two photos, one in color and one in monochrome. It then combines the images to improve the quality, and the early results have been… okay. A software update improved low-light camera performance, but The Verge still ranked the iPhone 7 Plus, Samsung Glaaxy S8 and Google Pixel XL better.
This competition is Apple's for the taking. The iPhone 8 is expected to come with a similar dual lens setup to the 7 Plus, where one is a telephoto lens and one takes a wider shot. This means users can take close-up shots without losing quality, and assuming Apple can match its predecessor's quality, it could easily retain the crown.
Price
Essential is the clear winner here. The device is priced at $699 for 128GB of storage. An iPhone 7 Plus with the same amount of storage will set you back $869, so Apple has already lost if it maintains the same price point. But there are rumors that the iPhone 8 could cost between $1,000 and $1,400 — a tough price to swallow on a budget.
And the winner is…
Essential has produced an impressive phone at a competitive price point. There's still a lot of unknowns about the iPhone 8, like whether the new depth sensors enable vital augmented reality experiences or if the camera is far superior to Essential's, but anyone looking at a strong Android alternative to the iPhone may want to opt for the Essential — that may explain its name.