Elon Musk: Tesla Facial Recognition is "Possible," with One Caveat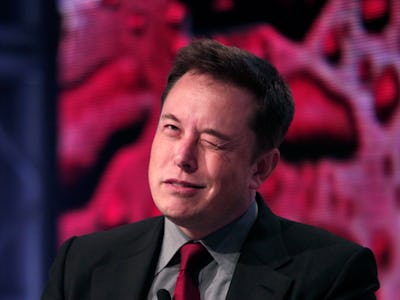 Getty Images / Bill Pugliano
The "B-Pillar camera" on a Tesla is just that, a camera mounted on the car's "B-pillar" — the vertical support of a car between the window of the driver and the window of the back-seat passenger — and it might one day be used to unlock a car, using facial recognition technology.
While keyless entry has been around for more than twenty years, unlocking a car might one day be as simple as the vehicle's computer recognizing the face of someone who's logged in the operating system as having permissions to access the car.
Right now, the Tesla Model 3 can be unlocked, automatically, with a smartphone app: As the owner approaches, the car detects the phone's bluetooth signal, and the car — shuh-shink — unlocks. It doesn't have an actual key. If the owner's phone is dead, the car can still be unlocked with a Near Field Communication card, which wirelessly can transfer a small amount of data (424KB/second) across a few centimeters. Pull your NFC card from your wallet and press it against the B-Pillar camera, and — voilà! — the car unlocks.
The B-Pillar camera's primary function, of course, is to collect data as one of the eight cameras on every new Tesla that inform the company's "enhanced Autopilot" technology that Tesla CEO Elon Musk predicted, as recently as late April, will transport passengers coast-to-coast without touching the steering wheel. It's unclear if this summer's Tesla Autpilot leadership changes have moved back that timeline. (Tesla also lost its battery director this month.)
Musk confirmed that it's possible the B-Pillar camera could one day read your face, but it's on the back-back-burner, for now. His reply on Twitter to a Dutch Tesla enthusiast this past weekend noted that there are other, more important tasks at-hand for the electric automaker, which is publicly in the lead when it comes to research and development of autonomous cars.
"Yeah, but not a priority right now," Musk told Gert-Jan Geerinckx, whose LinkedIn profile lists him as having been Tesla-Europe's used vehicle program manager from January 2015 to July of this year.
In the future, if you lose your phone and your NFC card, getting into a Tesla could be as easy as showing it your face. But with Tesla's mind-boggling "production hell" for the Model 3, the coming Model Y, the coming Tesla Semi, and the construction of the Gigafactory, it seems like facial recognition will remain a fantasy for now.