Tone-Deaf Tina Fey Sketch Divides the Internet
Did Fey demolish white supremacists or simply advocate complacency?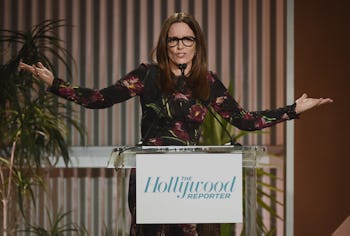 Getty Images / Kevin Winter
Comedian Tina Fey's remarks on Thursday's "Weekend Update" in the wake of the violence in Charlottesville, Virginia, proved to be divisive among the left-leaning denizens of Twitter, as she advocated "sheet caking" in response to white supremacists rather than active opposition.
The six-minute "Weekend Update" spot on Saturday Night Live follows the University of Virginia alum's stream-of-consciousness reaction to the Charlottesville protests, during which she aims acerbic jabs at white nationalists and the president, interspersed with jokes about the fact that drag queens are actually men and Thomas Jefferson's slave mistress and rape victim Sarah "Sally" Hemings.
Fey's solution to the festering pustule that is the white supremacist movement in America? The so-called "grassroots movement" sheet-caking. Stay home and eat a whole cake, which Fey said "most of the women I know have been doing … once a week since the election."
The clip of Fey speaking out against President Donald Trump and the white supremacists in Charlottesville received a lot of positive attention, particularly from certain media outlets. Variety lauded Fey's "takedown" of the president, The Huffington Post credited her with "absolutely [destroying] Nazis," and CNN said she "slams white supremacists" in the sketch. Many people online held Fey's comments in similar regard. "Yes, Tina!" a collective sentiment says. "My liberal QUEEN! Slay those Nazis and take DRUMPF down with them!"
But not everyone was as enthused by Fey's tacit endorsement of inaction. Many pointed out that, offensive jokes aside, the "stay inside" strategy that Fey suggested played a serious role in the current state of the nation.
The current political climate is, for many people, an exhausting one to inhabit. Stress-eating is a natural response to the kind of immense stress that many people, particularly women, people of color, queer people, and religious minorities, feel plagued by right now.
But we cannot let Tina Fey be "all of us," because for underprivileged individuals, the stakes are too high to stay at home and eat cake.