Still No Proof that Pot Can Help PTSD and Pain, Say Scientists
"The scientific evidence is too limited."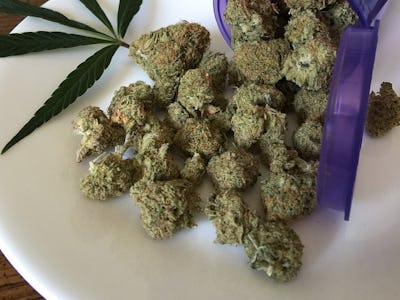 Pixabay
One of the engines driving the legalization of marijuana in the United States is the plant's ability to medically treat physical and mental pain. Right now, medical marijuana is legal in 28 states and the District of Columbia, and between 45 and 80 percent of people who use medical marijuana say they do so to manage chronic pain, and 33 percent say their primary reason for using it is to treat PTSD.
However, two systematic reviews of existing research on marijuana's effects suggest that the benefits of those treatments are probably due to the placebo effect.
Those reviews, funded and commissioned by the U.S. Department of Veterans Affairs and published Monday in the journal Annals of Internal Medicine, argue that there isn't enough scientific evidence to show that marijuana alleviates pain and PTSD. The existing research on the connection between cannabis use and pain and PTSD reduction, the authors argue, isn't comprehensive and is poorly appraised by critics, calling into question any medical practices that are based on it.
In the first review, which focused on how cannabis affects pain, the researchers reviewed data from 13 systematic reviews and 62 primary studies. They found "low-strength" evidence that cannabis can alleviate neuropathic pain (pain connected to nerve damage) and "insufficient evidence" to draw any conclusions on how marijuana affects other types of pain. This included the effect of marijuana on multiple sclerosis, which is a frequently cited application formedical marijuana.
In their paper, the authors write that "[virtually] no conclusive information exists" about the benefits of using marijuana to treat chronic pain and note that there's barely any information available on its potential harms.
There was even less research to analyze in the second review, which looked at the affect cannabis has on PTSD — only two systematic reviews and three primary studies on its potential harms and benefits. In this small data set, there was no sufficient evidence that cannabis could reduce PTSD symptoms. The authors wrote that the papers produced "scant evidence with medium to high risk bias."
Despite what the popular press has reported about the use of marijuana to treat PTSD and pain, the authors point out, "it is impossible to determine from these reports whether cannabis use is a marker for more severe symptoms or is effective at reducing symptoms, or whether the perceived beneficial effects are the result of the cannabis, placebo effects, or the natural course of symptoms."
Some of the limitations that pervade the majority of the studies, the researchers note, include the use of research subjects who may not be representative of people who actually want to use medical marijuana as well as bad weed. Pointing out that these methodological flaws must be corrected in future studies, the authors argue that their findings underscore a need for more — and better — research on marijuana's medicinal capabilities.
Fortunately, that work is already underway: The placebo-controlled trial on marijuana and PTSD conducted by the Colorado Department of Public Health and Environment, scheduled to conclude in 2019, will likely represent a first step in creating legitimate medical guidance on cannabis.
Though there's a chance that those methodologically sound future studies will show that medical marijuana really doesn't help with pain and PTSD, the authors aren't worried that it will reverse pro-medical marijuana legislation.
"Although several well-designed trials are underway to address this critical issue, to some degree the horse is out of the barn — and unlikely to return," they write.