Good Morning America Will NOT Run a New 'Star Wars' Trailer Tomorrow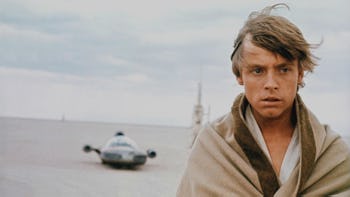 Lucasfilm
Despite rumors stating otherwise, a tweet from Good Morning America was not a sign that they would be releasing Star Wars-related content tomorrow.
On Monday, Good Morning America's Twitter account tweeted, "Alright, see you tomorrow! Make it a great day!" The tweet was accompanied by a GIF of C-3PO chasing R2-D2 and BB-8 off the stage at the Oscars in 2016, with the caption saying "Don't leave me!"
This led to rampant speculation that Good Morning America would be releasing a trailer for Star Wars: The Last Jedi on Tuesday. But it was, in the end, just a GIF.
In a tweet to Jeremy Conrad, presumably in response to this tweet, Good Morning America's social media producer, Jeff Lowe, tweeted, "As GMA's social person and (as you can tell by my profile) a HUGE fan, I promise you nothing is being alluded to in the GIF lol."
Lowe continued in another tweet, saying, "We use Star Wars GIFs a fair amount (BB-8 last Thursday again if I remember), etc."
Here's the original tweet from Good Morning America:
And Lowe's initial response:
In April, Good Morning America teased a Star Wars announcement in a much more explicit manner, literally with the word "announcement" in the tweet and accompanying video. It turned out to be for the charity Force for Change, not video of The Last Jedi as many fans assumed based on the use of old Star Wars footage and the soundbite, "Tomorrow, we've got Luke Skywalker and Rey together, with the Star Wars announcement forty years in the making!" But even if the marketing was a little misleading, it's clear that Good Morning America knows how to make it clear when something new in the Star Wars universe is actually debuting.
In this case, the ever-cranking rumor-mill is apparently still turning on this rumor, despite it being debunked. Remember kids, always google before you retweet.
Good Morning America airs every weekday at 7 a.m. Eastern on ABC.