Just Who Are These Defenders Everyone Keeps Talking About?
Before their show, a primer on Marvel's grungy squad of heroes.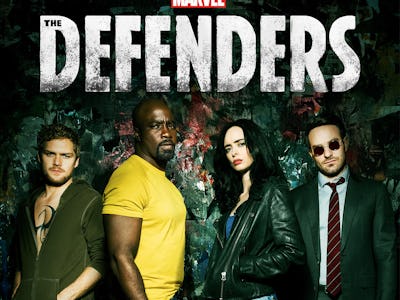 Netflix
In the Marvel Cinematic Universe, the Avengers enjoy privileged status as Earth's mightiest heroes. They live large in heavily armed headquarters that dominates the New York skyline, and they have some really cool weapons. But not every hero in the city gets to enjoy such comfort. On the west side of Manhattan, between Hell's Kitchen and Harlem, you'll find the Defenders, a ragtag four-man band made up of Daredevil, Jessica Jones, Luke Cage, and Iron Fist. They are the Defenders, and at last, they've assembled on Netflix.
There has been five seasons of television and almost 100 episodes detailing their exploits, so lagging and/or busy MCU fans who can't afford to binge watch 65 hours of TV have a lot of catching up to do. With that in mind, here's a brief 101 on the Defenders, who they are, and just what they're defending us against.
Who Are the Defenders?
Unlike the Avengers, the Defenders — created by Roy Thomas — are a makeshift team of heroes in Manhattan. Initially, they were made up of "outsider" characters who were known to work alone instead of part of a group. Its founding members were the Incredible Hulk, Doctor Strange, and Namor the Sub-Mariner. Typically, the Defenders banded together for a mission that spanned a few issues. Upon completion, the team would disband, or welcome new members while others left at the same time.
The Avengers is an officially sanctioned team. They're (often) well-funded, have some kind of legal authority, and everyone involves collects a paycheck — just ask Spider-Man. This is both true in the comics and in the MCU, and it's a pretty good gig if you can get it (they don't hire often). But that's not how the Defenders work. Aside from a later team called the New Defenders who operated under government compliance, for the most part, the Defenders are an under the table, off the record operation. The Defenders don't work together to save the world, they work together to save the day.
The Defenders have included a ton of Marvel heroes over the years, including Scarlet Witch, Ghost Rider, Silver Surfer, Iceman, Falcon, Wolverine, War Machine, and even Captain America. But in the MCU, the Defenders will be made up of the heroes who have starred in their own Netflix TV shows.
Daredevil
A blind attorney who moonlights as a stealthy vigilante, Matt Murdock (Charlie Cox) began training after his pro boxer father was murdered by a mob boss. Under the tutelage of an enigmatic master named Stick, Matt Murdock forged his body into a weapon, in order to save his home neighborhood of Hell's Kitchen from criminals.
In Season 1 of his show, Daredevil battled Wilson Fisk, aka Kingpin (Vincent D'Onofrio), who intended to unite the biggest crime rings of New York in under his control. In Season 2, Daredevil came face-to-face with Frank Castle, aka the Punisher, a military vet turned ruthless vigilante. Meanwhile, an old flame — an assassin named Elektra (Elodie Yung) — came back into Matt's life, which dragged him into a war against a secret cabal of ninjas called The Hand. The Hand intended to unleash its ultimate weapon, Black Sky… who turned out to be Elektra herself.
Jessica Jones
A hard-drinking private eye with a troubled past, Jessica Jones (Krysten Ritter) discovered she had super strength, nigh invulnerability, and even some flight after her parents were killed in an accident. Raised by an emotionally abusive foster mother, Jessica formed a close bond with her foster sister Trish Walker, a former child star and now New York radio personality.
After a very brief superhero career, Jessica found herself under the sway of Kilgrave, a sociopath with the unparalleled ability to persuade and manipulate anybody. Throughout Jessica Jones Season 1, Jones works to overcome her trauma and bring Kilgrave to justice after he ruins more innocent lives. It's in Jessica Jones that Luke Cage (Mike Colter) makes his MCU debut, as a supporting character.
Luke Cage
An ex-cop accused of a crime he didn't commit, Luke Cage was an inmate at Seagate Prison when he was subject to a breakthrough experiment that turned his hard body into a freak of nature. Bulletproof, damage-proof, all kinds of proof, Luke Cage escapes Seagate and finds refuge in Harlem, where his prison therapist and lover Reva Connors lived.
Years after the death of Reva and a short year after he lost his Hell's Kitchen bar, Cage hides away in Pop's Barbershop in Harlem. There, Cage fights the criminal forces that seek to rule Harlem under its thumb.
Iron Fist
At a young age, heir to the Rand fortune Danny Rand (Finn Jones) crashed with his parents in the snowy mountains of the Himalayas. While his parents died, young Danny survived, and he was taken in by monks from the mystical land of K'un-Lun. There, Danny spent years mastering kung fu, and soon found himself staring down the face of an ancient dragon: Shou-Lao the Undying. After defeating the dragon, Danny earned the title and the powers of the Iron Fist, the ultimate defender against K'un-Lun's sworn enemies, the Hand.
Out of nowhere, Danny abandons his post and travels back to New York. After fighting to reclaim his place as heir to Rand Corporation, Danny — alongside his allies Colleen Wing (Jessica Henwick) and the no-nonsense nurse Claire Temple (Rosario Dawson) — now begins a war with the Hand, who he discovers have been pulling the strings behind his life all along.
So how do the Defenders meet?
Although they come from separate backgrounds, the four heroes find their paths converge in The Defenders. With the safety of New York at stake, all four are forced to work together, whether they like it or not. While aliens may not be raining hell down on midtown, The Hand's plans to destroy the city are just as apocalyptic.
The Defenders premieres August 18 on Netflix. Daredevil, Jessica Jones, Luke Cage, and Iron Fist are streaming now on Netflix.