A Petition Just Went Online to Add Quavo to the National Anthem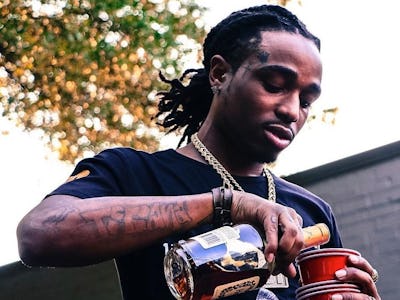 Our national anthem might be a reverent celebration of America's revolutionary origins, but it is not a banger. It does not slap, and I do not feel like turning up when I hear it.
One man aims to change that by adding a Quavo verse to the Star-Spangled Banner.
Sean Gray declared his intentions to insert the oldest Migos member into Francis Scott Key's famous composition with a Change.org petition that already has more that 1,400 signatures. "He's a feature on everything else, so why not?" Gray asked. 
Quavo has indeed appeared on some of 2017's biggest hits. He has verses on 4 of the Billboard Hot 100 songs at the time of this writing- "I'm the One," "Congratulations," "Strip That Down," and "Slippery," and all of them are fire.
Migos also released their second studio album, Culture, in January. The record is jam-packed with trap anthems like "All Ass," "T-Shirt," and "Bad and Boujee." On the latter song, Quavo raps: "Uh, yeah, dat way, float on the track like a Segway (go)/Yeah, dat way, I used to trap by the Subway (trappin')," a lyric which demonstrates both his entrepreneurial spirit and his ability to relate to the common man's love of sub sandwiches.
If the petition reaches 1,500 signatures it will be sent to Donald Trump for his consideration, another person who is famous for appealing to the common man. While it's unlikely that the president will approve this request, Trump should take into consideration the fact that a Quavo verse could be a decent representation of Trump's presidential conduct.
For instance, Quavo and the rest of the Migos are famous for their rap ad-libs, and Trump seems like he's ad-libbing his way through his entire time in office. They also both love lavishly displaying their wealth by personalizing luxury items, like any of Trump's branded towers or Quavo's customized chain memorializing his nickname, Quavo Ratatouille.
And on Culture's title track, Quavo brags, "Yeah, I bought the Benz off the lot/Just to give your ho a lift," which honestly sounds like something the president has also done.
So here's to hoping the beginning of baseball games and high school graduation ceremonies is about to get a lot more lit.