Netflix's 'GLOW' Steps Back in the Ring With Season 2 Teaser
The women of 'GLOW' aren't down for the count and will come back next year.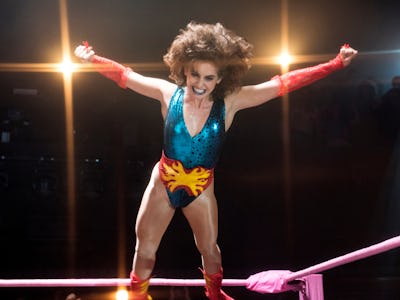 Netflix
One of the best new TV shows of the summer is officially coming back. GLOW, the Netflix comedy-drama set in the wild world of '80s women's wrestling, has formally announced Season 2, set to premiere in 2018.
On Twitter, the official page for GLOW posted a teaser showing a hot pink "2," an unambiguous sign that the breakout freshman series will return for its sophomore season. That means more headlocks, dropkicks, and professional tension fueled by the personal drama between its leading stars, Ruth "Zoya the Destroya" Wilder (Alison Brie) and Debbie "Liberty Belle" Eagan (Betty Gilpin).
Set in Los Angeles in the mid-'80s, GLOW follows an ensemble of aspiring actresses and models who unwittingly become the stars of a hot new women's wrestling promotion. The series, produced by Orange Is the New Black creator Jenji Kohan, is loosely inspired by the real-life novelty women's wrestling league G.L.O.W. whose in-ring alter egos were just as colorful as the women themselves. A 2012 documentary, GLOW: The Story of the Gorgeous Ladies of Wrestling, helped inspire the new series.
In real life, G.L.O.W. shuttered in 1990 when it simply could not raise enough money to keep production going. Although the promotion was a cult hit, it couldn't evolve into a larger franchise, like Vince McMahon's juggernaut WWE.
See the tweet for GLOW Season 2 below.
GLOW will return to Netflix in 2018.