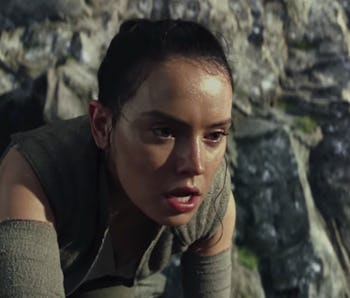 Entertainment
'Last Jedi' Probably Won't Scare Kids as Much Anakin Burning Alive
Will The Last Jedi be too scary for very young children? According to the director of the movie, "it depends on the 7 year-old." On Thursday, Rian Johnson responded to a fan Star Wars fan on Twitter about the relative scariness of the next installment of the seemingly never-ending galactic adventure.
Ever since the Ewoks danced their last dance on the forest moon of Endor and Jar Jar Binks said his last "whoopsie!" Star Wars films have probably become slightly more adult in terms of intense violence. From Anakin being burned alive in Revenge of the Sith to Han Solo being stabbed by his son in The Force Awakens, to literally every hero dying in Rogue One, the tragedy of Star Wars has gone a little more Shakespearian than perhaps the old days. True, The Empire Strikes Back had a shocking dark ending, but in contrast to the rest of the originally trilogy, it was seemingly the exception, rather than the standard mode of storytelling.
There's no way of knowing exactly how many times cast of crew have used the words "dark" or "darker" to describe the plot of The Last Jedi, but from the trailer and all the press buzz, it seems like the message is clear: this film is not going to be like A New Hope or the majority of The Force Awakens. True, The Last Jedi will feature adorable Porgs and cute little Space Nuns, but the rest might be, as Johnson said "intense."
Historically, the first five Star Wars films were rated PG, meaning young kids could probably watch them, in theory, without being scared. But in 2005, Revenge of the Sith was rated PG-13, probably because of Anakin killing little kids and getting burned alive. Since then, every single Star Wars film has been rated PG-13, and it sounds like The Last Jedi will be, too. Whether or not this is a good thing is a matter of debate. But for now, Rian Johnson isn't saying kids can't watch the film, just simply that it will be more like post-Sith Star Wars films than the gee-shucks energy of A New Hope or Return of the Jedi.
The Last Jedi will hit theaters everywhere on December 15, 2017. All the toys based on the film — certainly aimed at young children — will arrive in stores on September 1, 2017.