Donald Glover Didn't Need to Do Any Research for 'Star Wars'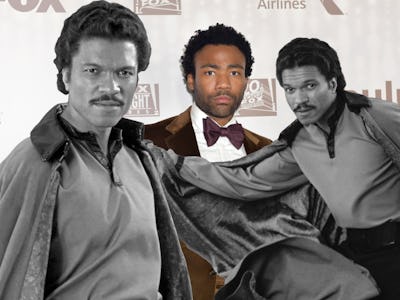 Getty Images / Rodin Eckenroth, Lucasfilm
Actor, writer, rapper, and producer Donald Glover will take his talents to the cosmos when he co-stars as a young Lando Calrissian in the upcoming Han Solo spin-off. But the Community alum is a true nerd through and through, admitting in a new interview he didn't have to research a thing about Star Wars.
"There are people on these movies who didn't grow up with Star Wars," Glover told The Hollywood Reporter. "Me? I know everything about [Star Wars]. I didn't have to do any research."
Glover did, however, have a lunch with the original Lando, Billy Dee Williams, who gave him the simple advice to not think too hard about it. "He just let me ramble on and on, and then finally I was like, 'So, what do you think?' And he goes, 'Yeah, I don't know about all that. Just be charming.'"
The Han Solo spin-off, which is currently in production, has been the subject of scrutiny following the departure of directors Phil Lord and Chris Miller, comedy auteurs who established their names through pictures like The Lego Movie and the 21 Jump Street films. Miller and Lord were replaced by Ron Howard, the prolific studio filmmaker who won two Oscars for A Beautiful Mind in 2001, though younger folks may know Howard better as the narrator of Arrested Development.
"To be honest, I don't know exactly what happened. I feel like I was the baby in the divorce, or the youngest child," Glover told The Hollywood Reporter. "The oldest child is like, 'We know what's happening, but we are keeping you out of it.'"
In addition to Star Wars, Glover is also working on a new animated series starring Marvel's Deadpool, as well as continuing work on his acclaimed FX series Atlanta.
The still-untitled Han Solo film will be released on May 25, 2018.