New 'Episode IX' Writer Only Proves the Trilogy Wasn't Planned
This story clearly hasn't been planned out.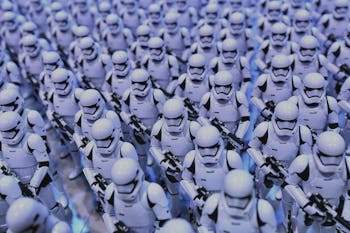 Getty Images / Gustavo Caballero
This article has been updated.
The script for the third and final chapter in the ongoing Star Wars trilogy has a new writer: playwright Jack Thorne. Haters of Throne's script for the divisive Harry Potter and the Cursed Child have already made the prediction he's poised to ruin another beloved fantasy franchise. But, the hiring of Thorne to work on the script for Episode IX is only the latest in a pattern with the Star Wars sequel trilogy: it seems like there was never a clear-cut plan for this story.
In May, Vanity Fair's cover story focused on the making of Star Wars: Episode VIII — The Last Jedi. Written by David Kamp, the very beginning of the article revealed that after Rey met Luke Skywalker at the end of The Force Awakens, J.J. Abrams didn't keep cameras rolling. And that's because, Abrams — one of the writers for The Force Awakens — seemed to not know what was going to happen in the next installment. This notion isn't a secret. The powers that be at Lucasfilm and Disney aren't hiding this idea. Instead, the PR machine is giving the opposite impression, that the creative direction of the new Star Wars trilogy was never plotted out ahead of time.
Further proof of this notion be found in the provocative comments made by both Mark Hamill and Daisy Ridley while doing press for The Last Jedi. Hamill went on record saying that he initially told writer-director Rian Johnson that he "fundamentally disagreed" with what was happening to the character of Luke Skywalker. To be clear, Hamill says he eventually came around to the script, but it does give one the impression that everyone is sort of making up these new Star Wars movies as they go along. But is that a good thing?
While there's plenty of historical evidence to support the idea that George Lucas also flew by the seat of his pants in planning the original Star Wars trilogy, he certainly didn't broadcast that fact. And despite prequels and special edition retcons, the first six films are considered to be his singular vision, for better or worse. And, at least since 1980, he had a rough idea as to where the story was going.
But, the new Star Wars trilogy doesn't seem be the vision of one person, but instead carefully planned movements by a corporation.
While this might result in movies fans enjoy, it does tamper with a little bit of the magic. If we discover the identity of Rey's parents in The Last Jedi but learn that it wasn't even planned or thought out at all in The Force Awakens, doesn't that make the cliffhanger feel sort of cheap? Kind of like something that would happen in a soap opera?
When Darth Vader told Luke Skywalker, "I am your father," Lucas knew that it was true. For three years fans debated whether or not Vader was lying. These days, questions about Rey's past and Kylo Ren's future feel similar. But no matter which way these stories turn out, it seems like fans will know deep down that the choices these characters make are somewhat arbitrary.
Obviously, Disney and Lucasfilm couldn't have anticipated the tragedy of Carrie Fisher's death, and that fact certainly impacted whatever basic plans were made for Episode IX. So, as a caveat, it's very possible that Jack Thorne was brought in to work on the script specifcally for that sad reason.
Even so, at least from a public relations perception, the notion that the films were sort of being written on the fly has been underway well before Fisher's passing. Numerous writers worked on The Force Awakens prior to 2015, though its original screenwriter — Michael Arndt— was dropped midway through the process. And, even when the various writers and directors speak of continuity between the films, it always sounds like a kind of a last-minute thing. For example, Rian Johnson only asked J.J. Abrams for one thing to be changed about The Force Awakens and Colin Trevorrow similarly said he asked Johnson for "one little thing" to be altered The Last Jedi. To be fair, this could just be the way they're talking about it, and perhaps a grand plan does or did exist. But there are certainly aren't any cohesive or consistent statements from Abrams, Johnson, Trevorrow, or Kathleen Kennedy to support that idea. At no point has the public been given the idea that everyone sat around in a room and planned out all three films. The movies seem to be being done one at a time.
Again, this might not be bad, but it does make theStar Wars sequel trilogy a little like Harry Potter and the Cursed Child. It's revisiting beloved characters from a fantasy world, but the plot isn't being written by the people who created those characters. The biggest critics of Cursed Child will claim that it feels like fan fiction, which is certainly a complaint some had about The Force Awakens, too.
Objectively, Jack Thorne's involvement in writing Star Wars: Episode IX isn't good or bad. At this point, Star Wars films are a revolving door of writers and directors. Rogue One had numerous screenwriting and dubious reshoots. Now, the Han Solo movie is being directed — and presumably rewritten — by different people than those who started it. As many industry pundits will point out, rewrites and reshoots are fairly common in big studio films.
But, it's just too bad that we're all talking about Star Wars now like a product that has several working parts instead of a sweeping, well-conceived story of heroes, villains, and the galaxy they fought over. The story of Star Wars, at this point, is more compelling behind the scenes than what is happening in the stars themselves.
The Last Jedi hits theaters on December 15. Episode IX is scheduled for release in May 2019.