'Star Wars: Episode IX' is Getting Rewrites from Jack Thorne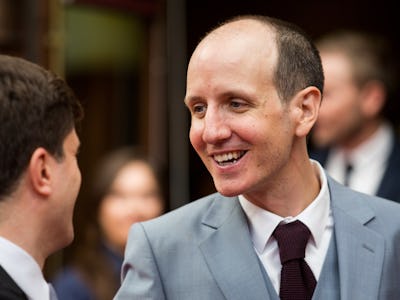 Getty Images / Rob Stothard
With five months to go before filming starts on Star Wars: Episode IX, Lucasfilm is bringing in fresh eyes to work on the script written by Derek Connolly and director Colin Trevorrow, The Hollywood Reporter revealed on Tuesday. Joining the team is Jack Thorne, the writer behind Wonder, episodes of Skins, and most worryingly, Harry Potter and the Cursed Child.
Episode IX will be the final installment of the Star Wars trilogy of trilogies, so the stakes are high. Bringing in another professional opinion will likely improve the script — even a talented duo like Trevorrow and Connolly probably needs editing — but fans have reacted with overwhelming disappointment to the news. They're turned off by the fact that Thorne wrote the script for Harry Potter and the Cursed Child; and admittedly, that doesn't bode well.
But Thorne's other projects have tended to get better receptions, like the British miniseries This Is England, which won several BAFTA awards.
Plus, the fact that the film's production schedule is currently unaltered suggests that Thorne isn't doing extensive rewrites to the script. He's probably just going to tinker a bit and make sure that all of the dialogue lands — which, again, is a good thing, if we want Episode IX to be as good as it can be.
Still, fans are not happy:
This guy accurately took the pulse:
Rewrites are pretty common in Hollywood; Episode VIII had some, too. Sure, the stakes are high, but Thorne's involvement isn't going to doom the movie.
Star Wars: Episode IX will be released on May 24, 2019.