Rian Johnson Says 'The Last Jedi' Will "Address" Rey's Parents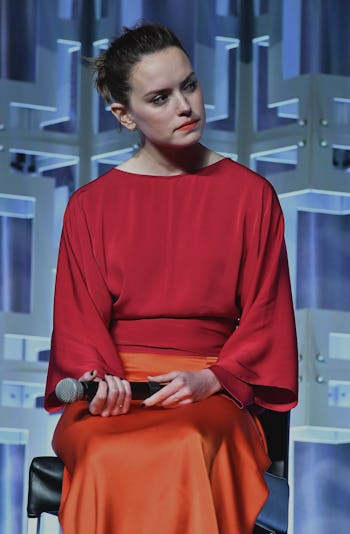 Getty Images / Gustavo Caballero
Whether she is a Skywalker, a Kenobi, or not related to any character previously seen in Star Wars before, Rey's family will "absolutely" be addressed in The Last Jedi — but the script won't be what anyone is expecting.
On April 14, amid the flood of new Star Wars information following Star Wars Celebration in Orlando, Florida, director Rian Johsnon, Mark Hamill, and Daisy Ridley were interviewed by ABC news. When asked, "Will we find out who her [Rey's] parents are?" the director replied with an evasive "hmmmmm," and then said, "It's something that will absolutely be addressed in the movie." The interviewer then pressed Johnson, asking if there will be "clarification" about Rey's parents. To this, Johnson evaded and said, "I can't say."
In the same ABC interview, Johnson said the training of Rey was "different" than the training seen in previous films. Meanwhile, Mark Hamill and Daisy Ridley both mentioned that they were surprised by several aspects of the script, and at one point, Mark Hamill said he'd told Johnson, "I fundamentally disagree with virtually everything you've decided about my character," and that the Luke Skywalker actor found what was written to be "shocking." Hamill tempered this all with by saying he thought his early apprehension "might be a good sign," because he'd previously felt like he was "wrong about seven," referring to the events of The Force Awakens.
Daisy Ridley echoed Mark Hamill's early apprehensiveness about the script for The Last Jedi, saying she had to have a "talk" with director Rian Johnson early on about "what was happening." Both actors stressed that what occurs at the beginning of the film will be "unexpected." Mark Hamill said that the line where Luke says, "It's time for the Jedi to end" was the "one story point in the teaser I can't really describe more." As far as Daisy Ridley's feelings about Rey's parents, it seems like she is continuing to imply Luke Skywalker could be the father. Ridley mentioned that back in 1980, fans didn't believe that Darth Vader was Luke Skywalker's father.
When the interviewer asked if Luke Skywalker could turn to the Dark side, Hamill replied, "Anything is possible."
The Last Jedi opens on December 15, 2017.