'Ant-Man and the Wasp' Begin Filming With a Small Teaser, Natch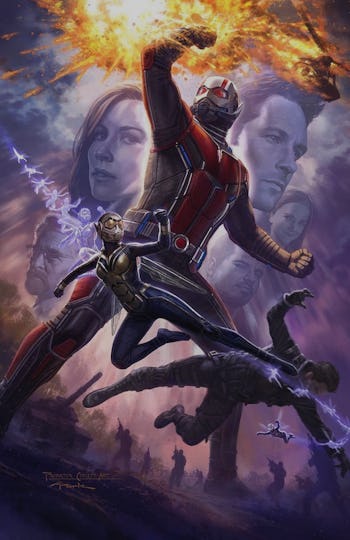 Marvel Entertainment
Big news for two small heroes. On Tuesday, Marvel announced that production on Ant-Man and the Wasp, a direct sequel to 2015's Ant-Man helmed by returning director Peyton Reed, has begun. Marvel also shared a fun teaser, revealing its two titular stars' size-appropriate chairs. It's a cute little thing that delivers at least medium-sized laughs.
Ant-Man and the Wasp, which is scheduled to hit theaters on July 8, 2018, will see Scott Lang (Paul Rudd), an ex-con turned superhero, team up for real with Hope Van Dyne (Evangeline Lily), an entrepreneur who inherits her mother's Wasp suit and technology. Michael Douglas will also return to reprise his role as Hank Pym, a former S.H.I.E.L.D. agent who created the Pym Particles that allows the user to alter their size. He can also talk to ants, which is pretty neat (and a bit gross).
The new teaser shared by Marvel doesn't reveal too much of the film — there's not even a sight of Rudd or Lily anywhere — but it does seem to be taken directly on set while the filmmakers are setting up a shot inside of a daytime setting. The music, composed by Christophe Beck, retains the fun spy/heist flavor that was present in the first movie.
See the teaser in the embedded tweet below.
Ant-Man and the Wasp will be released on July 6, 2018, a few months after Avengers: Infinity War.