'Ant-Man' Sequel Will Introduce a Major SHIELD Agent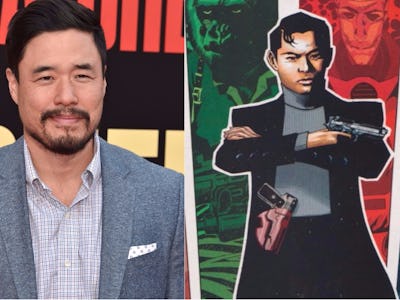 Getty Images / Alberto E. Rodriguez, Marvel Entertainment
On most Tuesday nights, actor/comedian Randall Park plays Eddie Huang, the fun dad on ABC's Fresh Off the Boat. But next year, Park will star as the legendary S.H.I.E.L.D. Agent Jimmy Woo in Peyton Reed's Ant-Man and the Wasp. It's a long shot, but fingers crossed that Disney and Marvel are considering an Agents of Atlas movie somewhere down the line.
On Friday afternoon, The Tracking Board reported that Park has signed on to Marvel's Ant-Man and the Wasp, a sequel to 2015's Ant-Man starring Paul Rudd. Both Rudd and co-star Evangeline Lilly will return to star as the titular Ant-Man and, you know, the Wasp. Park will play Jimmy Woo, a stylish secret agent introduced way back in Yellow Claw #1 in 1956, when it was especially rare for a heroic Asian-American character to appear anywhere in pop culture.
In the Marvel Universe, Jimmy Woo has served as the leader of the Agents of Atlas, a special task force within S.H.I.E.L.D. made up of special individuals: Namora, Venus, Marvel Boy, the robot M-11, and Gorilla-Man, a sarcastic mercenary named Ken Hale who had been cursed into being a gorilla. More recently, Jimmy Woo appeared in Greg Pak's The Totally Awesome Hulk, in which he teamed up with Shang-Chi, Silk, Ms. Marvel, and Amadeus Cho, the new Totally Awesome Hulk to fight against aliens who abducted entire neighborhood blocks of New York City.
There are no other details surrounding Park's character other than that Jimmy Woo is an agent of S.H.I.E.L.D., which is a no-brainer.
Ant-Man and the Wasp will be released on July 6, 2018.