How Do You Respond To Sarahah Messages? Well, You Don't
The app doesn't allow users to respond to the comments they receive, which is why it's so addictive.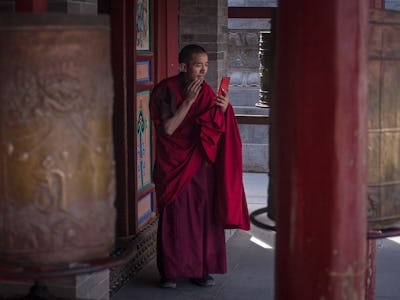 Getty Images / Wang He
To message another user on Sarahah is to shout into the void — but, of course, that's part of the appeal.
Every user's Sarahah page is a sort of tabula rasa — the options for customizing your Sarahah account are pretty limited. Obviously, you can pick a username, display name, and profile photo, but beyond that, everyone's account is identical. Each user page has a blank white box with the same command above it: "Leave a constructive message :)."
And that's it.
Sarahah's sole function is to serve as a vector for messages. No replying to other people's "constructive" thoughts. And even though you can add new dimensions to the app by linking it to a Snapchat account, it's essentially little more than an open inbox.
But Sarahah is unique because there is no way to respond to or share messages received within the app. In fact, there's no way to respond to messages directly at all, and they can only be shared via screenshot through other social media channels, like Facebook, Twitter, Instagram or Snapchat.
This inability to interact in-app sets Sarahah apart from both other apps that cloak users in anonymity and other question-asking apps.
Yik Yak gave users anonymity, but only allowed for the creation of threads, which depersonalized user experience and turned geographic proximity into a way to connect and converse about specific topics. Sure, sometimes individuals were the subject — or target — of these discussions, but there were means within the app to report these direct addresses.
Other apps based around anonymous question-asking, like Ask.fm, Formspring, and the Facebook add-on, Honesty Box, kept the anonymous comments personal but allowed users who received questions or comments the chance to respond in a public venue.
By making user comments private, Sarahah also eliminates the possibility for "likes" or "favorites" as a metric of popularity, a prominent feature on more established social media networks like Twitter, Instagram and Facebook.
Sarahah is not a popularity contest. It is not a forum for discussion. It is not where one goes to get questions answered. So what is it, precisely?
Inverse already speculated that what makes Sarahah so popular is the desire to be complimented. Users open their inboxes in the hope of receiving revelations involving secret admirers in a romantic or platonic sense.
But on the commenter's end, Sarahah speaks to a deep need to be heard. Sending a message on Sarahah only guarantees reception. A comment on Sarahah might not even merit a response, and the sender knows not to expect one. hit
The constructive criticism on Sarahah demands no answer, and exists only to be seen.