Facebook is Funding the Effort to Fight Fake News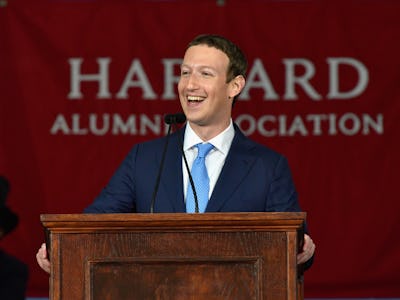 Getty Images / Paul Marotta
Facebook will provide the initial round of funding to a new nonprofit launched to develop ways to fight against the spread of misinformation, attacks by hackers and illicit propagandists, and attempts to undermine voting systems on social media. The announcement, made Wednesday at the Black Hat information security conference in Las Vegas, marks the company's latest commitment to improving online security and getting involved in the fight against fake news.
Facebook has consistently acknowledged the importance of controlling the spread of hoaxes and misinformation on its social media platform, but the question of how much this issue affected the 2016 presidential election has been a major source of controversy for the company. Days after Donald Trump's victory last November, CEO Mark Zuckerberg rejected the notion that the world's largest social network played an influential role in the 2016 presidential election:
"I think the idea that fake news on Facebook — of which it's a very small amount of the content — influenced the election in any way is a pretty crazy idea."
Since then, Zuckerberg and the company have softly retreated from such a pointed dismissal of the influence of Facebook on politics and election-related news. The funding of this new initiative is the latest and most explicit acknowledgement that, yes, fake news is something Facebook cares about.
"Right now we are the founding sponsor, but we are in discussions with other tech organizations," Facebook chief security officer Alex Stamos said in an interview before his speech at Black Hat, as reported by Reuters. "The goal for our money specifically is to help build a standalone ISAO (Information Sharing and Analysis Organization) that pulls in all the different groups that have some kind of vulnerability."
It's still unclear specifically how the nonprofit plans to fortify barriers against. The project, launched last week by the former campaign chairs for Hillary Clinton's and Mitt Romney's presidential campaigns, plans to develop tools that future campaigns can use to prevent cyber attacks and hacks by foreign entities and non-state actors.
To that degree, the initiative seems to be more focused on cybersecurity for campaigns and political parties. Facebook might be trying to pin the responsibility on controlling irresponsible information dissemination on groups more centrally focused on politics and elections. The company has taken a few steps towards solutions that would safeguard the social media platform against promoting fake news, but Facebook has yet to explicitly affirm there's a problem to deal with.
Inverse has reached out to Facebook for comment and will update this post if and when the company responds.