What Is a Glioblastoma? Understanding John McCain's Brain Cancer Diagnosis
It's malignant and aggressive, but McCain has vowed to return to the Senate.
by Monica Hunter-Hart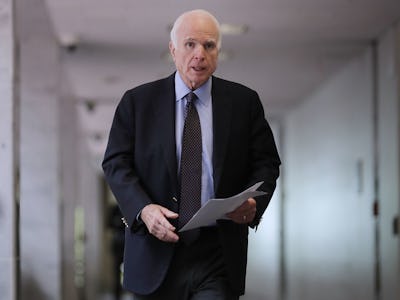 Getty Images / Chip Somodevilla
Upon the request of Senator John McCain, Mayo Clinic released a statement on Wednesday announcing that the 80-year-old legislator and former presidential candidate has been diagnosed with brain cancer. McCain had undergone surgery for a blood clot above his left eye on Friday, an event that delayed a vote on the American Health Care Act ("Trumpcare"); during the operation, doctors discovered that the clot was associated with a larger problem: a brain tumor known as a glioblastoma.
A glioblastoma is malignant, which means that it will grow and spread instead of staying contained (in which case it would be "benign"). This cancer proliferates quickly, but doesn't generally spread to other places in the body, with one exception being the spinal cord.
It is a "primary" brain tumor, meaning that it originated within the brain; 15 percent of primary brain tumors are glioblastomas. The cancer develops in the brain's supportive tissue cells, called "astrocytes."
Scientists don't yet know what causes glioblastomas, though it is more common among men and older people.
Treating a glioblastoma is difficult (though recent research bodes well for the development of more effective treatments in the future). The American Brain Tumor Association (ABTA) describes the tumor as having "finger-like tentacles" that make it "very difficult to completely remove." The Mayo Clinic's statement indicates that McCain will not undergo surgery, which is usually the first step in glioblastoma treatment; instead, his "treatment options may include a combination of chemotherapy and radiation."
The ABTA writes that the median survival ("the time at which an equal number of patients do better and an equal number of patients do worse") for adults who undergo treatment for a glioblastoma is around 14.6 months. Thirty percent of these patients live for at least two years, and ten percent live for at least five years.
A statement from the senator's office released on Wednesday reads:
"Senator McCain appreciates the outpouring of support he has received over the last few days. He is in good spirits as he continues to recover at home with his family in Arizona. He is grateful to the doctors and staff at Mayo Clinic for their outstanding care, and is confident that any future treatment will be effective. Further consultations with Senator McCain's Mayo Clinic care team will indicate when he will return to the United States Senate."
Note that phrasing — "when," not if, he will return to Congress. A journalist from the Arizona Daily Star also reported that the senator has vowed to come back.
"The news of my father's illness has affected every one of us in the McCain Family," McCain's daughter said in a statement on Wednesday. "It won't surprise you to learn that in all this, the one of us who is most confident and calm is my father."
McCain is currently serving his sixth term in the United States Senate, to which he was reelected in 2016. He was first elected to Congress as a member of the House of Representatives in 1982, nine years after he was released from captivity in North Vietnam, where he was a prisoner of war for over five years.
The senator will finish this latest Senate term in 2022. He is currently on leave from the government and is recovering from his recent surgery in Arizona with his family.