Scientists Are Blasting Away Brain Cancer With Stem Cell Tech
This procedure increases the survival time from brain tumors by 160 to 220 percent.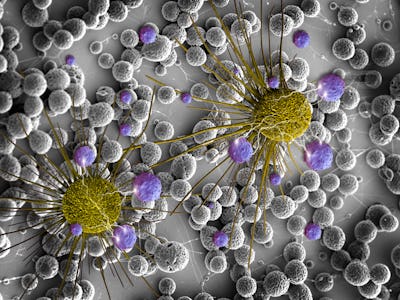 Penn State/Flickr
In a groundbreaking discovery, scientists have figured out how to turn skin cells into cancer-fighting stem cells. Once inserted to the brain, they hunt down tumors like Boba Fett.
This discovery from the University of North Carolina builds off gene targeting research, which won the Nobel Prize in 2007. However, this is the very first time this type of reprogramming technology has been used to treat cancer.
The research, published in Nature Communications specifically targeted people suffering from glioblastoma, a type of brain cancer that occurs in the supportive tissue of the brain.
These tumors are highly malignant — only 30 percent of people diagnosed from glioblastoma are expected to live beyond two years of their diagnosis.
To do this, the team reprogrammed stem cells called fibroblasts, which are used to create collagen and connective tissues, into neural stem cells. These had the ability to move about the brain, killing cancer cells. They were also engineered with a tumor-killing protein, making them highly effective at their cancer-killing job.
In this study, which was only on mice, the procedure increased the survival time of the mice by 160 to 220 percent — depending on the size of the tumor. In their next study, the researchers hope to focus on human stem cells and test effective anti-cancer drugs that can be loaded onto the neural stem cells.
Shawn Hingtgen, co-author of the research, announced in a press release that he pursued this work because "patients desperately need a better standard of care." This discovery, if it proves effective in humans, will be the first new treatment for brain cancer in more than 30 years.