Don't Worry About Elliot From the 'Mr. Robot' Finale
Elliot will be back on his feet in 'Mr. Robot' Season 3.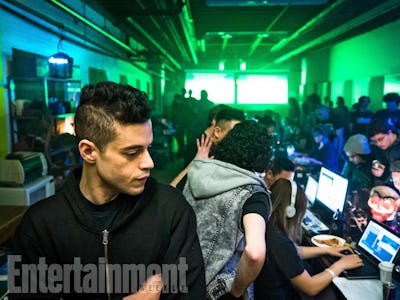 Entertainment Weekly, USA Network
When Mr. Robot last left off, Elliot (Rami Malek) was in a tough spot, bleeding from a gunshot wound after Tyrell (Martin Wallström) shot him for trying to undo the firmware hack that would have kicked off Stage 2. But, series creator Sam Esmail said it was never his intention to leave his protagonist's well-being in question as the show's second season came to a close.
In an interview with Entertainment Weekly, Esmail said Elliot's fate was not meant to be a cliffhanger question during the show's off-time between Season 2 and its forthcoming Season 3. "I never intended to have the question of his condition be lingering between seasons 2 and 3," said Esmail. "We respect the audience too much to leave that as a cliffhanger."
Entertainment Weekly also shared a new photo of Mr. Robot Season 3, which shows Elliot surrounded by busy hackers. Even though Esmail said fans never had to worry about Elliot, it's refreshing to see Elliot back on his feet after being emotionally and physically compromised in Season 2. And Esmail says that Season 3 is all about Elliot in full force. "Season 3 is about Elliot trying to bounce back and fight against the people who have been using him," said the producer. "Elliot isn't going to take this lying down."
Mr. Robot will return to the USA Network later this year.