D23 Expo: 5 Predictions People Have about Star Wars and Marvel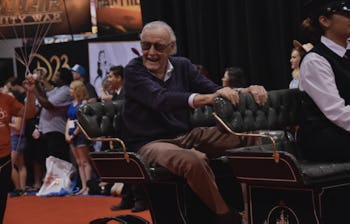 Twitter/ @bestofmarvel
As the first day of Disney's big biennial expo comes to a close in Anaheim, California, the weekend-long bonanza of events and presentations has already given fans some franchise teasers to chew on.
Footage from The Incredibles 2 was screened Friday afternoon, as well as Ralph Breaks the Internet: Wreck-It Ralph 2. But animated features aside, what else can we expect to see at D23? Fans are salivating for what we might learn in the realm of Disney's extended, more adult fare: specifically, the Marvel Universe and Star Wars.
Here are five currently circulating predictions — based on rumors and facts — for what we might learn over the rest of the weekend:
5. Thanos Will be Joined by a New Infinity War Villain
A humongous statue of the Avengers: Infinity War baddie Thanos was unveiled Friday, but he was left standing all on his lonesome. The other covered figures are going to be revealed on Saturday, and rumor has it we'll get a look at some of Thanos's sidekicks for his upcoming battle against the Avengers and their 1,000 Marvel Universe friends.
4. Guardians of the Galaxy …Land Will Open at at Disney Parks
We've already learned more about Star Wars Land, and on Saturday Walt Disney Parks and Resorts chairman Bob Chapek is scheduled to give fans some news on what's going on with Disney Parks around the world. Rumors have been swirling that a Guardians of the Galaxy attraction will be replacing the Universe of Energy pavilion at Epcot; specifically Ellen's Energy Adventure.
3. A Second Thor: Ragnanrok Trailer Will Debut
This one is far from a sure thing, as Mark Ruffalo kind of hinted Thursday that the second trailer will actually show up at Comic-Con. But you never know!
2. The First A Wrinkle In Time Teaser Will Debut
OK, this isn't Marvel or Star Wars, but it is a sure thing. Director Ava DuVernay tweeted Friday that a teaser trailer and poster for her upcoming adaptation of the sci-fi novel A Wrinkle in Time will debut at D23. She has been hanging out at the conference, fangirling out over Stan Lee.
1. New Footage of Star Wars: Episode VIII — The Last Jedi Will Debut
Yes that's right. Die-hard Star Wars in attendance may be given a sneak peak at the upcoming film during a presentation at 10:30 a.m. Pacific Time. If it's anything like the Incredibles 2 teaser Friday, it might be an entire scene that gives fans a taste of what's to come. Disney has been known to tease out tidbits of upcoming Star Wars films at trade shows in the past, and with such a crown jewel of an upcoming film available to show off at D23, why would this year be any exception?