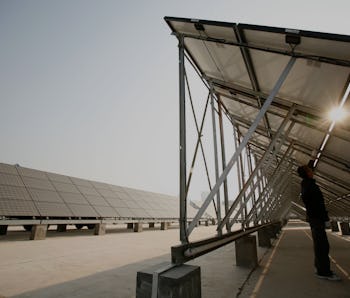 Science
Solar Panels are Being Used as a Middle Finger to Keystone Pipeline
Getty Images / China Photos
The Keystone XL Pipeline project has been rejected and revived in a painful series of events over the past few years, and right now it's only one step away from full approval. Luckily, activists led by the Indigenous Environmental Network (IEN) have designed a brilliant method of protest: building solar panels that block the pipeline's path.
Three segments of the Keystone Pipeline have already been built. The fourth is under dispute; it would transport 830,000 barrels of tar sands oil, the planet's dirtiest fossil fuel, from Canada to Texas refineries each day. The Nebraska Public Service Commission will decide next month whether or not to approve the route proposed by TransCanada, the company that's building the pipeline.
So, with little time to waste, IEN has partnered with Oil Change International, 350.org, Bold Nebraska, and CREDO to create the "Solar XL" campaign, which will "increase renewable energy sources along the pathway of the Keystone XL pipeline route in Nebraska as an alternative to environmental destruction," as described in a press release.
Instead of occupying the pipeline construction route with human bodies, as in the recent Dakota Access Pipeline protests, for example, this project will occupy the path with solar panels. They will act both as powerful symbols and useful energy sources.
"The solar arrays will be connected to Nebraska's power grid generating clean, renewable energy for the entire state," said the press release, "as opposed to a risky pipeline that would provide little benefit to Nebraskans."
To construct its initial three solar panels, Solar XL hopes to raise $50,000, and is currently seeking donations.
"Solar XL will force TransCanada to tear down a safe, clean energy system to build its dirty tar sands pipeline on treaty lands of the Oceti Sakowin and Ponca tribal nations," Dallas Goldtooth, IEN organizer, said in the release. "These tribal nations and our allies will stand up to defend the treaty rights of Indigenous peoples and the rights of landowners because our lives are not tokens for monetary gain."
If you'd like to donate to the project, you can do so here.