Drone Video Shows Police Using Water Cannons on Dakota Access Pipeline Protesters
Footage highlights increasing use of drones to keep eyes on the police.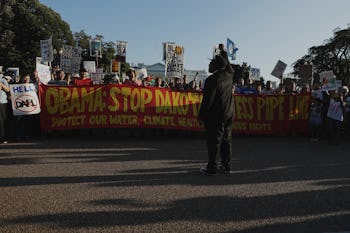 Getty Images / Alex Wong
Protests in North Dakota against the Dakota Access pipeline continued this past weekend, with tensions between protesters and police coming to a head on Sunday night. For months, opponents of the pipeline have gathered in the area to protest and prevent its construction on lands sacred to the Standing Rock Sioux tribe. There have been numerous clashes between protectors and police since the beginning of what has since been dubbed the #NoDAPL movement. Allegations of police brutality and excessive use of force against peaceful demonstrators have followed on the heels of those incidents.
Such allegations may once again be leveled at the North Dakota state police, after video footage, captured by an unmanned aerial drone, showed police employing water cannons to disperse protesters during what police referred to as an "ongoing riot." The scene occurred near Backwater Bridge on Highway 1806. Police claimed protesters were attempting to "flank" the police line and were setting "multiple fires … on the bridge and in the area of the bridge." Protesters claimed, in contrast, that they were merely trying to move dead vehicles off the road and that the fires were lit to help them keep warm in temperatures that had dipped into the 20s.
The drone footage is just over a minute long, and shows a field lit up by floodlights. Demonstrators can be seen standing in front of a police line from which the water cannon is being fired. Police swept a few times back and forth across the crowd, soaking them in the freezing weather. In the final seconds of the video, police turn the water cannon up towards the drone, presumably to shoot it down. The drone then flies up and out of range.
This is not the first time that drones have made an appearance at Standing Rock. They have been used throughout the conflict as a means of civilian reporting and to enhance public oversight of police activities.
About one month ago, news surfaced that a drone equipped with a video camera had been shot at at, and forced to land, by police in a helicopter. In that incident, police officers said the drone had "buzzed" the helicopter in a "threatening" way, forcing them to act on behalf of their own safety. The drone's pilot, Dean Dedman Jr., who is registered with the Federal Aviation Administration, disputed the charge. He said he'd been flying well below the helicopter.
At the end of a few years characterized by cellphone recordings of police violence and misconduct, drones could be the next logical step for public awareness. It makes good sense why protesters, like those at Standing Rock, would want to use them. First and foremost, the pilot can be situated a safe distance away, free from direct retaliation if officers were ever to decide that they didn't want to be recorded. Unmanned drones are also much harder to disable or confiscate than a cellphone, and have existing laws preventing them (in most cases) from being tampered with. Of course, it's on the government to enforce those laws if police use bullets — or a water cannon — to down a drone. It may be that 2017 brings us even more drone, rather than phone, footage of events like this.
And that might prove to be a good thing. While it's difficult to determine a full picture of the situation this past Sunday from the raw footage alone, the sight of police using water cannons certainly calls to mind a legacy of police actions from which we would do well to depart.