Does Keystone XL's Death Signal a Changing Tide for Climate Policy?
Environmentalists are celebrating a big win today. What does the future hold?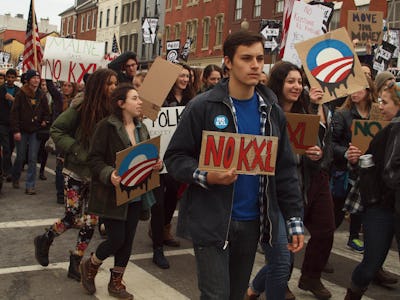 mgh500/Flickr
It's not every day that environmentals get to celebrate the death of a major oil and gas project. Or, hell, much of anything else, for that matter.
And while Obama cited lack of economic benefits as a central reason for quashing TransCanada Corporation's proposal to build the Keystone XL oil pipeline, it's clear that intense pressure from environmentalists is really what did the project in.
And they knew they had won. After news of the decision broke Friday morning, but before Obama had even made it official, 350.org posted its celebratory video to YouTube:
The message? We won because we fought hard, but the fight ain't over.
"President Obama is the first world leader to reject a project because of its effect on the climate," writes 350.org co-founder Bill McKibben in a release. "That gives him new stature as an environmental leader, and it eloquently confirms the five years and millions of hours of work that people of every kind put into this fight."
Added 350.org Executive Director May Boeve: "Just a few years ago, insiders and experts wrote us off and assured the world Keystone XL would be built by the end of 2011. Together, ranchers, tribal nations, and everyday people beat this project back, reminding the world that Big Oil isn't invincible — and that organized people can win over organized money."
With Obama's bold move is just the latest in a serious of signals that world is starting to take the climate change threat seriously.
Clearly the environmental groups have a lot to be pleased about, but they're not laying down their swords just yet. "Our movement simply will not rest until our economy shifts away from the dirty fossil fuels of yesterday to the clean renewables of tomorrow," writes Boeve.