Andy Serkis Read Trump Tweets as Gollum From 'Lord of the Rings'
Even Gollum wants to know what "covfefe" is.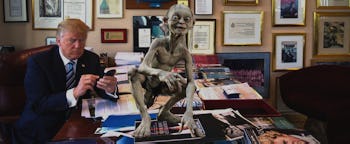 Josh Haner/The New York Times
Stephen Colbert is a well-documented Lord of the Rings mega-nerd, so it comes as little surprise that he would have Andy Serkis read some of President Donald Trump's tweets in the voice of Gollum when the actor visited The Late Show with Stephen Colbert to promote the new War for the Planet of the Apes movie.
Trump's infamous tweets have already been read aloud by the likes of Mark Hamill as the Joker (multiple times) and Billy West's doofus Captain Zapp Brannigan from Futurama. Gollum is just the latest fictional character on the spectrum of villainy to lend his voice to Trump's words.
Serkis was a good sport when Colbert requested the impromptu Gollum performance on The Late Show and seemed genuinely delighted to participate. (It helps that Colbert introduced him on the show as his own "Precious.")
To get in character, Serkis hops up on his chair and crouches in a pose that's decidedly Gollum-esque to deliver two "classic" Trump tweets:
The other tweet was from late May 2017, which has since been deleted, but it sparked a viral scandal in itself and spawned a million "covfefe" memes. It nonsensically read, "Despite the constant negative press covfefe."
See also: "What a Wild Day It's Been for the Word "Covfefe"
As Gollum, Serkis asks, "But wait … wait … what's covfefe, precious?" Wouldn't we all like to know?
Check out the video from The Late Show right here:
Must read: "Mark Hamill Reads Donald Trump Tweet as the Joker"