'Black Panther' Will Deal With the Fallout of 'Civil War'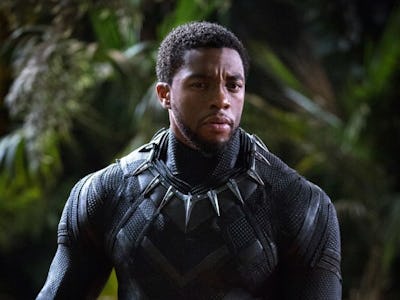 Entertainment Weekly
Next year, the Marvel Cinematic Universe will journey to Wakanda in Ryan Coogler's Black Panther. A new magazine spread confirms that the film will take place after the events of Captain America: Civil War, and that its main character, T'Challa (a returning Chadwick Boseman) is still learning how to be a king while he's in mourning for his father T'Chaka (John Kani), Wakanda's previous monarch.
With San Diego Comic-Con just around the corner, Entertainment Weekly is spotlighting Marvel's Black Panther in its annual Comic-Con issue with a big image gallery of 20-plus new photos. Accompanying the pictures are new details of the film, among which reveal the setting of Black Panther in the MCU's timeline. Black Panther will explore T'Challa's "mourning process" and "his connection to why his father was killed, and feeling like he should have been able to do something about it," Boseman told Entertainment Weekly. "All that ties into how he's going to rule."
Although he had a significant supporting role in last year's Captain America: Civil War, Marvel fans saw up close how much T'Challa loved his father and how driven he was to avenge him (read: capture Bucky). In the end credits of Civil War, Bucky is in Wakandan custody, though actor Sebastian Stan isn't expected to appear in Black Panther.
Still, Captain America: Civil War continues to shape the rest of the MCU. It gave Marvel fans Spider-Man, who is now having the time of his life protecting his neighborhood. Captain America is still missing and considered a war criminal, while Iron Man is back in authority. And Thor and Hulk are — nowhere to be found. (They'll return soon enough in this November's Thor: Ragnarok.) But, now, it will also influence movies like Black Panther; similar to Civil War, Black Panther will be a political adventure that will take audiences around the globe, from its Wakandan lands all the way to underground South Korean casinos.
Black Panther will be released on February 16, 2018.