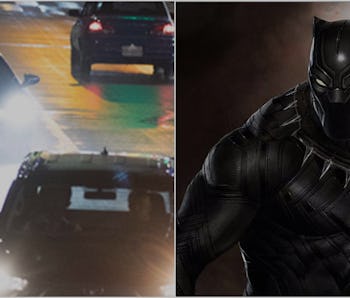 Entertainment
T'Challa Car Surfs in Korea in First Official 'Black Panther' Photo
So far, Marvel hasn't revealed too many details about its upcoming Black Panther solo movie. The film's release date is still a little less than a year away, and aside from a vague plot synopsis and an increasingly dope series of casting announcements, we're a bit in the dark on what to expect. On Tuesday, though, Marvel unveiled the first official photo from the movie, which reveals that T'Challa will travel to South Korea at some point and ghost ride the whip.
The image, which was first posted by The Hollywood Reporter shows T'Challa clinging to the roof of a car. It's a lot like the character's costumed debut in Captain America: Civil War, when he sped after Buck Barnes in a frantic car chase.
This time, though, T'Challa is in South Korea, which presumably means that Black Panther's epic story will take the hero beyond the borders of Wakanda. It's possible that Marvel is going to dress up the city of Busan in post-production to make it look like a Wakandian locale, but THR reports that they shot at local landmarks, and the official shot is full of Korean neon signs.
The shoot reportedly involved about 150 cars and more than 700 people, so it's probably going to be a much more exciting scene in the final movie than this somewhat underwhelming first look would let on.
Black Panther will ride into theaters on February 16, 2018.