The iPhone 8 Will Leave Investors 'Disappointed'
Sales figures may not materialize.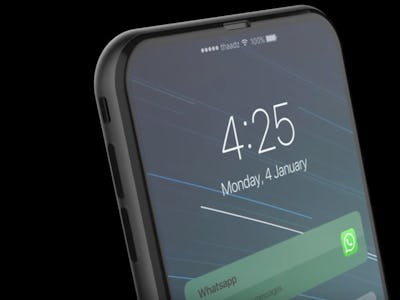 ConceptsiPhone/YouTube
The iPhone 8 may not set the world alight as investors are hoping, due to a combination of a high price tag, slow demand, and historically high sales figures that will be hard to repeat. A new report from Deutsche Bank published on Monday claims that the market doesn't appreciate the number of challenges Apple faces with its upcoming smartphone launch, which is set to bring a radical redesign to the iPhone line.
"We believe investors will be disappointed by iPhone growth in FY-18 and FY-19," the report, written by Deutsche Bank analysts Sherri Scribner, Adrienne Colby, and Jeffrey Rand and sent to Business Insider, claims.
Rumors suggest the iPhone 8 will launch this fall alongside the iPhone 7S and iPhone 7S Plus. The iPhone 8 will be the most expensive of the three, but despite an increased price, expectations are high that a combination of a 5.8-inch OLED screen, dual lens camera, hidden fingerprint sensor, and wireless charging will lead to high sales. The phone is launching 10 years after the first iPhone debuted, making this a symbolic anniversary launch.
"I honestly don't think something like $1,249/1,399 is out of the question," Apple blogger John Gruber said in an analysis published Friday. The 256 GB iPhone 7 Plus, currently the company's most expensive model, retails for just $969. An iPhone with a starting price of $1,249 would make it by far the most expensive iPhone the company has ever produced.
"Generally, when prices go up, demand goes down," Deutsche Bank said in its analysis. "A scenario where prices go up and demand goes up seems highly unlikely in our view."
The team measured its analysis based on the iPhone 6 launch, which took place three years ago. Consumers update their smartphones approximately once every 2.7 years, which suggests that the company will sell around 230 million iPhones this year as those consumers look to upgrade. But many analysts are predicting sales in the financial year 2018 of 244 million units, meaning an extra 13 million iPhones outside of those upgrading.
There's a lot of reasons to think Apple won't get those extra 13 million sales. A lot of people already have smartphones, meaning there's fewer first time buyers this time around compared to the iPhone 6 launch. Around 65 percent of smartphone shipments also come from sub-$300 phones, so if the iPhone 8 is as expensive as rumored, it's targeting a very small demographic. The iPhone 8 may seem exciting, but it faces an uphill struggle to repeat past successes.