Seems Like DC Is Adapting 'Gotham By Gaslight' Into a New Movie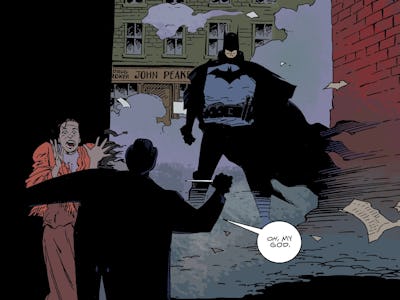 DC Comics
Holy Victorian fashion, Batman! Over the weekend, the supposed Blu-ray box art for DC's newest direct-to-video animated feature, Batman and Harley Quinn, surfaced online, revealing that the next DC Animated Universe movie will be Gotham By Gaslight, an adaptation of the cult classic 1989 graphic novel that reimagines Batman as a late 19th-century crusader who squares off with Jack the Ripper.
On Sunday, a user on Reddit posted the rear box art for the physical Blu-ray box of Batman and Harley Quinn. Among the special features is a "sneak peek" of Gotham By Gaslight, an adaptation of DC's first Elseworlds book — one-shot titles that reimagine DC's popular characters in alternate realities — published back in 1989. Written by Brian Augustyn and illustrated by P. Craig Russell and Mike Mignola (most famous for his original gothic comic series Hellboy), Gotham By Gaslight is a fan-favorite book due to its unique setting and style. It's been popular enough that a canceled Gotham By Gaslight video game was once in development. Batman's costume from the book was also an alternate skin for Batman in the 2013 video game Batman: Arkham Origins.
Gotham By Gaslight is also a long-in-the-works project for DC. Back in 2015, in an interview with Inverse, DC animation director Jay Oliva (Justice League Dark) said one of his dream projects was a film version of Gotham By Gaslight. "We do the Justice League continuity then Elseworlds, so there's a lot of things [we want to do]," Oliva told Inverse. "I'd love to do Gotham by Gaslight."
Batman and Harley Quinn will be released digitally on August 15.