The iPhone 8 Will Come in Four Colors, and They Look Incredible
This launch can't come soon enough.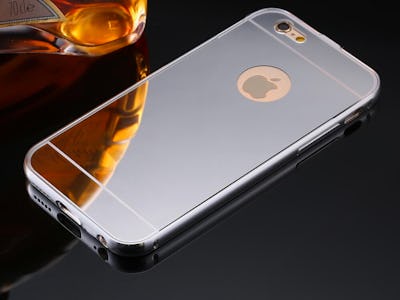 Benjamin Geskin/Twitter
The iPhone 8 is coming, and if new rumors are to be believed, it's going to look fantastic. A new leak published Saturday reveals Apple's next iPhone, set to launch 10 years after the company launched its first smartphone, will come in four different colors. Two of these will introduce a mirror sheen to the device, which has largely retained a matte casing throughout the past decade.
Apple leaker Benjamin Geskin shared images of what sources tell him is how the iPhone 8 exterior will look on the back. Included in the four color options will be the choice of "black mirror" or "silver mirror." Geskin shared iPhone 6 case images aimed at reflecting how these two color options will look in practice.
It's not the only big changes Apple is bringing to the iPhone 8. The premium smartphone is shaping up to be a radical redesign, switching out the LCD display technology present since the first iPhone for a futuristic OLED display typically found on high-end Android devices. This allows for a non-square screen design, so the display will extend to the far edges of the device and pack a 5.8-inch screen into a phone the same size as the 4.7-inch iPhone 7.
View the new color options below.
Outside of the external looks, Apple is expected to make a number of internal adjustments that point to the future of the iPhone range. The camera is expected to come in a vertical dual lens configuration, which will provide depth data that could prove useful to Apple's future augmented reality ambitions.
Similarly, the iPhone 8 is expected to be the first in the range to introduce inductive wireless charging, where the user can place the phone on a pad and charge up without plugging in. Previous rumors suggested that Apple may introduce a charger that works without contact, powering the device over a range of a few meters, but recent rumors suggest Apple has moved away from this idea.
The iPhone 8 is expected to launch this fall, powered by the iOS 11 software update currently in beta. The update will also come to existing iPhones as an over-the-air update, offering a redesigned control center, a new notifications section, and a modified user interface that brings the Apple Music design to a number of other built-in applications.