iPhone 8 Will Have a Larger Camera Bump, and That's Great for AR
Tim Cook's influence shines through in new leaks.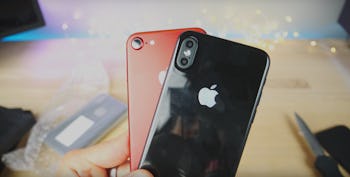 EverythingApplePro/YouTube
Apple is staying silent on its future iPhone plans, but a recent stream of leaks have revealed the company has big ideas around augmented reality. A dummy version of the iPhone 8, expected to launch later this year, has surfaced in a YouTube video published Saturday. One of the design choices shown in the video could help bring CEO Tim Cook's vision of an augmented reality future to life.
Cook has previously hinted that Apple is planning something big in augmented reality. In an interview last month, he said the technology was "profound" and that "even we can't predict what's going to come out." He described how an Ikea app could preview furniture in a user's home through a camera view, or how Pokémon Go could offer a more immersive experience.
Key to this is the iPhone 8. The device will host a 5.8-inch screen in a phone the same size as the 4.7-inch iPhone 7, thanks to a screen that fully extends to the top and bottom, but Apple's choice of a dual lens camera system means the new phone will have a larger camera bump than the current model:
The dual lens model is not a new feature, having debuted last year on the 5.5-inch iPhone 7 Plus. In its current form, one lens offers a wider view than the other, allowing for closer shots in certain situations.
Augmented reality could benefit from the dual lenses by collecting depth data around the user's surroundings. Currently, the phone has to guess how far away tables and other objects are just by interpreting a flat image. Apple is already using depth information to power the iPhone 7 Plus' Portrait Mode, which blurs the background and keeps subjects in sharp focus to mimic a high-end professional camera.
It's not the first move Apple has made toward augmented reality. Last month, the company unveiled iOS 11 at the Worldwide Developers Conference, an update scheduled to launch this fall for iPhones and iPads. Among other features, the update brings a new "ARKit" foundation so developers can easily create augmented reality apps.
Further into the future, Apple is rumored to be researching a Google Glass-like pair of glasses that would overlay information about the user's surroundings without obstructing their vision. Cook has spoken before about how he thinks AR is better than standard virtual reality, as AR is a more social experience where users can still make eye contact with each other. It's all change, and the iPhone 8 could be the company's most decisive step in this future direction.