Fan-Made 'Overwatch' Netflix Trailer Is Fake But So, So Good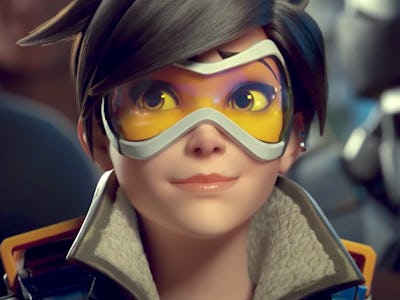 YouTube.com/Lion Montages
Blizzard's Overwatch enjoys plenty of popularity due to its pro esports scene, but sometimes it seems like most fans aren't even that interested in actually playing it. The game's robust in-universe mythology and colorful characters — there is a GORILLA SCIENTIST NAMED "WINSTON," y'all — has earned the game a unique identity separate from most first-person shooters, like Call of Duty and Destiny. Case in point: Over the Fourth of July weekend, a YouTube channel named Lion Montages created a fake Netflix series trailer made out of existing Overwatch shorts produced by Blizzard. The result is a show that looks too good to be fan-made.
This isn't the first time Overwatch fans, let alone Lion Montages, have cut up scenes for fake trailers. Several months ago, Lion Montages edited a theatrical movie-style trailer based out of the same Overwatch shorts. But now, Lion Montages has sought a different rhythm for a theoretical Netflix series. The result is a compelling case study for film students. Both the theatrical and Netflix trailers use the same exact footage, but they follow entirely different audio-visual patterns and rhythms.
Personally, I prefer the Netflix trailer. Fake movie trailers are a played-out genre, and Lion Montages nailed a sense of energy while slyly spoofing Netflix's habit of using popular music ("Human" by Rag'n'Bone Man) in place of original scores (see: Marvel's The Defenders). Plus, the idea of a Netflix show is a better fit for Overwatch than an overproduced theatrical movie. Who doesn't want filler episodes where Tracer zips around shops to buy a birthday gift for her girlfriend?
See Lion Montages's Netflix trailer below.
And for comparison, here's the theatrical trailer from a few months ago.
Overwatch is available to play now. The Netflix series does not have a premiere date because it doesn't exist.