These Are the 'Overwatch' Characters Tumblr Wants to Make Kiss the Most
Tumblr has cold, hard data to back up who the most popular ship belongs to.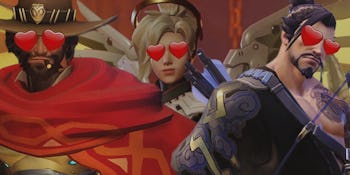 Blizzard
Fans of Blizzard's extraordinarily popular shooter Overwatch love to send the game's colorful heroes into battle against one another. You know what else they like to do? Make 'em kiss.
Tumblr, perhaps ground zero for extremely good fanart, heartwarming comics, and other steamy user-generated Overwatch content, crunched the numbers and determined which hypothetical romantic character pairings were the most popular among fans. (These pairings are known as "ships" in fandom.)
In order to determine which heroes were the most popular couple, Tumblr had to sift through a ton of data. Seriously, during a 358-day period, the #overwatch tag alone racked up almost 150 million engagements, making it the second-most popular tag on the entire site. It beat out every TV show or movie franchise and even crushed more basic tags like #GIF and #art.
To gauge the popularity of the ships (which range in interpretation from X-rated porn to touching, platonic love), Tumblr looked at the specific tags the fan community uses to represent each ship. The most popular pairing? The Japanese archer (and scrub favorite) Hanzo with the American gunslinger McCree. "McHanzo," as it's known, accounted for more than a third of all the tagged Overwatch shipping posts on the entire site. The runner-up was "Reaper:76" which pairs Reaper and Soldier: 76.
Mercy, the angelic healer, made four appearances in the top ten, hooking up with Pharah (third place), Genji (seventh place), Reaper (ninth place), and Soldier: 76 (tenth place).
"With more than 20 characters, Overwatch fandom is rife for shipping" Tumblr explained in the post. "You can find a ship chart for just about any combination you can think of — a possible 276 unique combinations."
Some ships have, somewhat, been supported in Overwatch canon. Fans who data-mined a recent update found hidden dialogue between Mercy and Genji (the seventh most popular ship on Tumblr) that suggested the two were dating.
Here, then, are the ten most popular Overwatch ships:
1. McHanzo:McCree x Hanzo (35.03 percent)
2. Reaper:76: Reaper x Soldier: 76 (17.03 percent)
3. Pharmercy: Pharah x Mercy (12.69 percent)
4. Widowtracer: Widowmaker x Tracer (9.08 percent)
5. Roadrat: Roadhog x Junkrat (8.82 percent)
6. Genyatta: Genji x Zenyatta (6.76 percent)
7. Gency: Genji x Mercy (5.84 percent)
8. Meihem: Mei x Junkrat (2.48 percent)
9. Mercykill: Mercy x Reaper (1.17 percent)
10. Mercy76: Mercy x Soldier: 76 (1.10 percent)