Twitter Already Ships Betty and Veronica in 'Riverdale' 
The best of the Twitterverse's response to the CW's 'Riverdale.'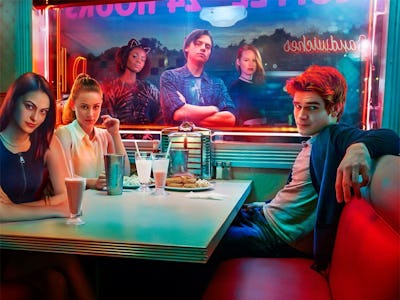 The CW's newest show Riverdale — otherwise known as Sexy Archie — is either the edgy teen show model gone too far, or it's a sly commentary on the genre. This live-action noir take on the world of the Archie comics is brimming with sex, intrigue, murder, and absurd dialogue. Instead of a simple story about an oblivious redhead, his love triangle with a nice girl and a posh girl, and their trials at school and the local soda shop, there are copious half-naked shots of the improbably fit Archie (K.J. Apa), Betty and Veronica make out, and Cole Sprouse's Jughead — who is bound to be the most controversial character — bookends the story as an Emo Teen Murder, She Wrote.
There's a lot to unpack in Riverdale beyond the secrets of its central murder mystery. Naturally, then, it's a show practically made for Twitter reactions. Here's the best of the Twitterverse's response.
Some people absolutely loved it and wanted the entire season immediately.
Some had different responses to its tone.
Some mocked its parallels to other pop cultural entities like High School Musical.
Some were psyched about its take on Jughead.
Some are already shipping Betty and Veronica.
Some liked its sense of purpose, setting up the rest of the season.
Some thought it played it too tame, even as it lauded itself for edge.
Some simply mocked the CW's penchant for casting attractive 30-year-olds as teenagers.
And lastly, some people were supportive siblings.
As Riverdale gets further into its central mystery and interpersonal dynamics, it seems the most burning question is not whether Archie will choose Betty or Veronica, but rather if Betty and Veronica will choose each other.