G20 2017 Expected to be the Most Contentious in History
Hot topics include climate change, economic shifts, and President Trump's first Putin meeting since winning the election in 2016.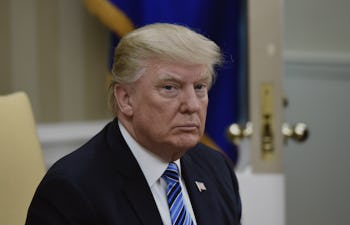 Getty Images / Pool
On July 7, American President Donald Trump will meet with Russian President Vladimir Putin for the first time since the 2016 election. The two presidents, who have been locked in an international controversy regarding the details of their relationships, will attend the G20 Summit (or "Group of 20") in Hamburg, Germany. Though climate change is expected to be the primary topic of conversation, there are quite a few different scenarios worth keeping tabs on.
Also in attendance will be Canadian Prime Minster (and American meme) Justin Trudeau, German Chancellor Angela Merkel, and France's newly elected President Emmanuel Macron. The G20 comprises the United States, Germany, France, Canada, Russia, Argentina, Australia, Brazil, India, Indonesia, Italy, Japan, Mexico, Saudi Arabia, South Korea, Turkey, the U.K., China, and South Africa. Spain and a representative from the European Union are non-permanent attendees, and as The Telegraph reports, "it has become customary for the Chair of ASEAN (Association of Southeast Asian Nations) and representatives of the African Union and NEPAD (New Partnership for Africa's Development) to be present at leader summits."
Brazilian President Michel Temer will not attend the Summit, and has not explained why. Similarly, Saudi King Salman bin Abdulaziz Al Saud will not be in Hamburg, though he is sending his Finance Minister Mohammed al-Dschadan instead.
What usually happens at the G20 Summit?
The group does not vote or make any official international policy decisions at the summit, though political analysts often attribute the beginnings of certain movements to conversations that occur at G20 meetings. The group typically meets once annually, but there were two G20 summits during 2009 and 2010 in order to address the global economic crisis. In 2009, then-British prime minster Gordon Brown proposed a $1.1 trillion "injection" of financial aid into the world's economy.
What's going to happen this year?
Chancellor Merkel announced on the heels of Trump removing the United States from the Paris Climate Agreement that the G20 Summit would focus primarily on climate change. Her entire agenda for the Summit is available online. Before her announcement, many American analysts had anticipated Trump's reuniting with Putin to be the event's central focus, but things have gotten complicated.
Merkel also went on to say, though she didn't identify Trump specifically, "Anyone who believes the problems of this world can be solved with isolationism and protectionism is a making a huge mistake." In addition to climate change, she reportedly wants to discuss immigration and trade.
Trump hasn't answered Merkel angrily via Twitter, his preferred medium for communication, but the United States hasn't pulled out of the Summit either. A pre-Summit meeting was quietly announced this week by the German government, which seeded to the press that Merkel and Trump would speak Thursday night.
Trump, to his credit, has been uncharacteristically calm about American and European relations, simply tweeting the following when his meeting with Merkel was announced:
President Macron was softer in the press, saying that he hoped Trump would reconsider his position on climate change, but that the European world leaders in Hamburg would not go out of their way to isolate the American President any further. Trump is still planning to be in France with Macron for Bastille Day, where the festivities will reportedly include American soldiers marching alongside the French.
So what else is brewing in Hamburg?
The only loose cannon world leader whose behavior rivals Trump's in spontaneity is Turkish President Recep Tayyip Erdoğan, who has been steadily making international headlines for weeks. In early June, Erdoğan's security guards beat the shit out protestors outside the Turkish embassy in Washington, D.C., and they were charged for the attack.
Coming off that controversy, Erdoğan announced his intention to address Turkish protestors outside Hamburg during the G20 Summit, though Merkel denied his request to do so. Merkel has assured Germany that all parties who wish to peacefully protest the Summit will be allowed to do so, but the strong divide between members of the Turkish diaspora has threatened to erupt into violence. It's also worth noting that Germany, in addition to many other EU nations, criticized Erdoğan for brutally crushing the political coup that attempted to put him out of power in 2016.
In addition to unhappiness between Turkey and Germany, anarchists and members of the political group Blac Bloc have been posting online about protesting and disrupting the Summit, which, to many, represents globalism, and capitalism, at its worst. Merkel's decision to host the Summit in an urban space, critics have pointed out, puts the world leaders in a precarious position.
Anarchists and protestors have already pointed out how easy it would be, hypothetically, to block off access points within the city and trap world leaders. The process, called "kettling", remains a threat.
The G20 Summit officially begins Friday, July 7 and ends on the evening of July 8.