Trump Awkwardly Refused to Shake Angela Merkel's Hand at a Photo Op
Merkel was willing, but the president appeared to ignore her.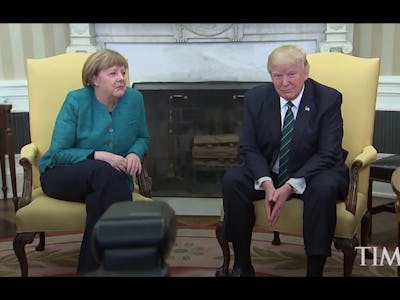 YouTube
President Donald Trump met with German Chancellor Angela Merkel today in the Washington and boy, was it awkward. The two world leaders discussed a wide range of issues, including Russia, NATO, and the European Union. One thing Trump didn't seem so ready to do? Shake hands.
It all went down during the joint photo op at the White House. Trump and Merkel, seated opposite one another in ceremonial chairs, were smiling and waving for reporters. Trump fielded a few quick questions about the talks they'd just been through.
"How did your talks go, Mr. President," a reporter asked.
"Very good," Trump said.
Then it happened. "Handshake?" The request came first from a single reporter, but immediately erupted into a chorus of voices as journalists and photographers waited for the customary handshake that is often shown in pictures of diplomatic meetings. "Handshake? Handshake?"
But it never came. Merkel, for her part, smiled and leaned in, apparently prompting the 45th President of the United States to engage in the customary light diplomatic theater. But Trump appeared bashful, unwilling and stubborn. He stared forward, hands in his lap, seemingly ignoring the calls. It continued for about ten seconds and culminated with Merkel herself asking Trump for a handshake to no avail.
The video, in all its cringeworthy glory:
Perhaps Trump was afraid that Merkel would pull a similar stunt to Canadian Prime Minister Justin Trudeau and enact a power play by controlling the interaction. Maybe her hands looked a little big to him.
Whatever Trump's reason, it was an awkward cap to an already tense meeting. During the presidential campaign, Trump was highly critical of Merkel's decision to admit thousands of Syrian refugees into Germany. He was also notoriously soft on Russia, advocating for a milder stance on Russian involvement in Ukraine, which Merkel strongly and consistently opposed.