Germany Worries Russia Might Meddle in Elections Using Fake News
Politicians are worried about a repeat of the U.S. election.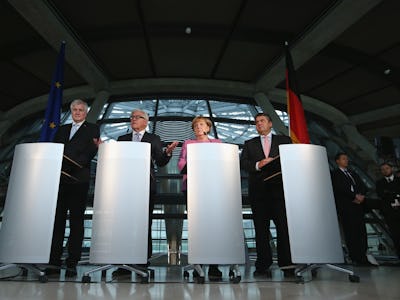 Getty Images / Sean Gallup
With Germany's national elections coming up next fall, the country's government is gearing up for the fight against fake news. Chancellor Angela Merkel will likely face challengers from across the political spectrum — most notably from far right, anti-refugee groups whose rhetoric is similar to Donald Trump's. Now, Merkel and other politicians fear they will also have to contend with Russian interference in the form of cyberattacks and fake news. Hans-Georg Maassen, head of the German Federal Office for the Protection of the Constitution, warned in a statement that Russia would likely engage in cyber-espionage in an attempt to "weaken or destabilize the Federal Republic of Germany."
One method by which the German government worries that Russia will interfere is the peddling and dissemination of fake news stories. The United States recently grappled with the complications presented by the introduction of misinformation into the mainstream via websites like Facebook. It has drawn sharp criticism from public figures, most notably President Obama himself. The German government, however, is prepared to take things one step further than simply speaking about how fake news presents a problem.
Politicians from both of Germany's major parties, the Christian Democratic Union (CDU) and the Social Democratic Party (SPD), have expressed some degree of support for mandating that Facebook delete fake news posts from its site as they appear. The Vice Chairman of the SPD Parliamentary Group, Thomas Oppermann, said that the German government will spare no legal recourse in pursuit of stemming the tide of "made-up news reports, conspiracy theories, hate and rabble-rousing." Patrick Sensburg, member of the CDU, agreed, saying that "targeted disinformation with the goal to destabilize a state should be punished."
Throughout the German government, there have been calls for unity on this issue. The above from Sigmar Gabriel, one of many such calls, roughly translates to, "We @spdde want to join forces with the Christian Democrats against tools like manipulative 'social bots' and fight fake news together!"
In the United States, despite claims that fake news helped propel Trump into the White House, the notion that Facebook would or should ban such misinformation has been met with far more skepticism than it has across the Atlantic.
Vice President Joe Biden recently issued a call to action for leaders like Merkel and Canadian PM Justin Trudeau, praising them as "genuine leaders" and statespeople in the face of liberal defeats elsewhere in the world. Germany — whose conceptualization of "free speech" is more restrictive than Americans would define it — stands ready to do whatever it takes in order to ensure that its elections remain the products of an adequately informed electorate. There is little willingness to tolerate falsehoods at scale.