Britney Young Breaks Down Her Epic Match in 'GLOW'
"Machu Pichu" reveals how her match with "Welfare Queen" came together in the hit Netflix comedy.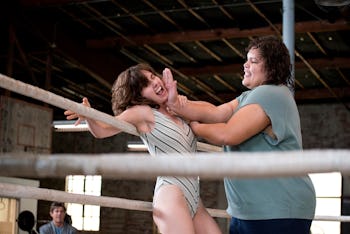 Neflix
In the Netflix series GLOW, Britney Young (My Crazy Ex-Girlfriend) plays the painfully shy Carmen, an insecure young woman who descends from pro wrestling royalty. And in a phone interview with Inverse, Young reveals how she has long wanted to bust the stereotype that Carmen works to overcome. "Growing up, I was into '80s movies. Plus-size girls were either bitches or the weird girl who sat in the corner," she says. "I wanted to fight that so much."
Inspired by the cult wrestling league of the late '80s, GLOW tells the story of aspiring actresses and models who played characters more colorful than a Saturday morning cartoon. Behind the scenes, art imitated life as the ensemble cast really did have to learn the ropes of wrestling. Although Carmen is well-versed in the sport, Young, as well as the rest of the cast, were not (the lone exception being Kia Stevens, who wrestled around the world as "Awesome Kong").
Young says she paid little attention to wrestling growing up, when the likes of The Rock and Steve Austin rose to fame. "I hate to say it, but I thought wrestling was fake," she says. Young isn't wrong: pro wrestling is an elaborate show with scripted outcomes. But the action is real, as is the physical strain. "I didn't want to watch something where people were hurting each other but weren't hurt. As it's been broken down [to me] that this is a performance, a team sport, I am now a fan."
Training for GLOW was overseen by ex-WWE star Chavo Guerrero Jr. (nephew of original G.L.O.W. trainer, Mando), and took place over four weeks each day in a Glendale warehouse. Although the cast learned at the same pace, showrunners Liz Flahive and Carly Mensch told Young that due to Carmen's lineage she would have to demonstrate more skill than her peers. Young admits to feeling nervous, but with the help of Guerrero, stunt coordinator Shauna Duggins, and her castmates that encouraged her along the way, Young felt ready to triumph in the season finale.
"I was so honored to do that," Young raves about her match with Stevens, whose character becomes the "Welfare Queen." Guerrero and Stevens wanted to showcase a two-minute bout that would be easy to perform but still make everyone shine, including Young, who also contributed ideas — including performing Steve Austin's iconic maneuver, the Stunner. Young also had the blessing to perform Stevens's own move against her, the Awesome Bomb. "She was like, 'Let's do it, I've only had four girls done it against me.'" Carmen now boasts: "I'm number five."
"Kia's influence on me goes beyond that scene," she adds. Young explains that she found a mentor in Stevens, who taught her what wrestling really is about: partnership. "She took me under her wing. I had a conversation with her when we started, I didn't understand how wrestling worked. She said wrestling is about technique, about being gentle and communicating with your partner, not size. It doesn't matter if you're against someone who is a hundred pounds or three hundred pounds, you will be able to do this."
In the 2012 documentary GLOW: The Story of the Gorgeous Ladies of Wrestling, the show's former stars spoke of a sisterhood that glued them together. That appears to ring true for the cast of the Netflix series. Though it wasn't audible, Young tells Inverse that her group text had been pinging all throughout the interview. "I consider these women to be my sisters," Young says. "They have changed me in ways they don't even know. In this industry where you're putting women against each other, a lot, we all came in learning something new our bodies and minds weren't used to. It was inspiring to do your match and have twelve women cheering for you. It's so empowering."
GLOW is now streaming on Netflix.