'Game of Thrones' Showrunners Admit They Can't Stop Leaks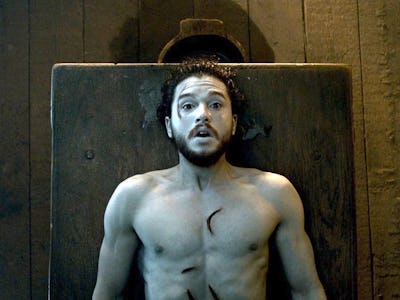 'Game of Thrones'
Those who wish to stay spoiler-free on Games of Thornes be warned: Even the showrunners don't think they can stop spoilers from leaking out. In a new interview, David Benioff and Dan Weiss seem to admit defeat on the spoiler front, saying, "What chance do we have?"
Now that the canon future of the Game of Thrones is firmly in the hands the showrunners, Benioff and Weiss seem more resigned than ever about leaks and spoilers. In a Time cover story due on July 10, Benioff communicates those worries: "Look at how difficult it is to protect information in this age. The CIA can't do it. The NSA can't do it. What chance do we have?"
Last season, HBO's Game of Thrones officially surpassed what's been published in book form by George R. R. Martin. Considering the nervous fears that the gargantuan novel, Winds of Winter, will never even come out, for the foreseeable future the fate of Westeros rests firmly in the hands of Benioff and Weiss.
Information security was a huge concern going into Season 6 after fan-favorite Jon Snow was killed in the Season 5 finale. Benioff, Weiss, HBO itself, and even actor Kit Harington had to straight-up lie to fans for nearly a year; even then, everybody sort of knew that Jon would be resurrected before it actually happened in the show.
Mood of secrecy has also changed the dynamic on the set of the show. The actor behind Jaime Lannister, Nikolaj Coster-Waldau, spoke about how much more protective the showrunners have become about the story and script of the show: "I think they feel this is truly theirs now, and it's not to be tampered with. I've just sensed this last season that this is their baby: 'Just say the words as they're written, and shut up.'"
With Season 7 starting in just a couple weeks, tension over spoilers is perhaps higher than ever.
Game of Thrones Season 7 premieres on HBO July 16 at 9 p.m. Eastern.