Jon Snow Is "Absolutely Dead," Says HBO Vice President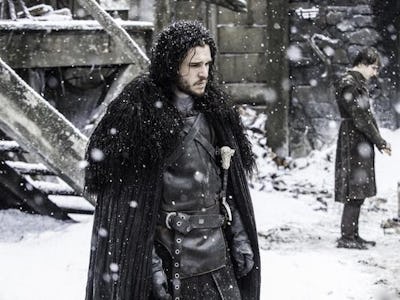 HBO
Winter came for Jon Snow at the end of last season's Game of Thrones. Spoilers? Sorry, but you should know by now.
Executive VP of HBO Programming Michael Ellenberg stayed just as cold at the Edinburgh Television Festival happening right now, stating the pretty boy of the Night's Watch is "absolutely dead." As opposed to "just dead" or "mildly dead."
Though Jon Snow could be dead, it doesn't mean he is finished. Actor Kit Harrington has been spotted in Belfast, one of the shooting locations for the HBO series. Adding to the speculation of his continued presence is the ever-vigilant #HairWatch, and Harrington was seen in Belfast sporting the ultimate 'do of life: the man-bun.
As Thrones fans know, occultist Melisandre, the Lady in Red, is not even physically far from Jon Snow's current whereabouts (bleeding on the ground of the Night's Watch HQ). She could hop-scotch her way to Jonny Snow and do some magic to make him spry as a spring chicken.
So nice try, Executive Vice President of Programming for HBO Michael Ellenberg. We see you, dude.