Director of Netflix's 'Death Note' Shares Terrifying New Poster
Ryuk coaxed Adam Wingard into revealing the poster on Twitter.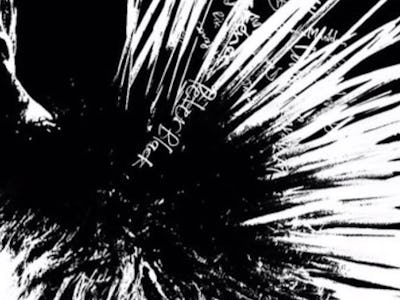 Twitter/Adam Wingard, Netflix
Ryuk, the Japenese death demon featured in Tsugumi Ohba and Takeshi Obata's manga series Death Note, has a Twitter account. Or, rather, some PR people over at Netflix made him a Twitter account to promote Netflix and director Adam Wingard's upcoming Death Note film. Ryuk's account recently "coerced" Wingard into revealing a new poster for Death Note, and it looks appropriately ragged and dark.
Ryuk started things out on Monday on Twitter, asking his followers if anyone wanted to "play a little #DeathNote game?" Wingard was dragged into the discussion when Ryuk, upon receiving some positive response to his question, said he wanted to show the masses what they'd been working on for Death Note.
What resulted was Wingard sharing a new poster, featuring Ryuk (who will be voiced by Willem Dafoe in the film) in black and white, his outfit a bit more death metal-esque than in previous on-screen versions.
Wingard and Netflix have received some backlash regarding their Death Note adaptation, which involves accusations of whitewashing that Wingard has addressed. The main character of Light Yagami (whose name has been changed to Light Turner for the Netflix adaptation) being portrayed by Nat Wolff rather than a Japanese actor and the story taking place in Seattle rather than anywhere in Japan have contributed to those accusations.
Check out the first teaser for Netflix's Death Note right here.