Apple Just Released an iOS 11 Beta, But You Shouldn't Install It
A big leap forward for the iPhone and iPad.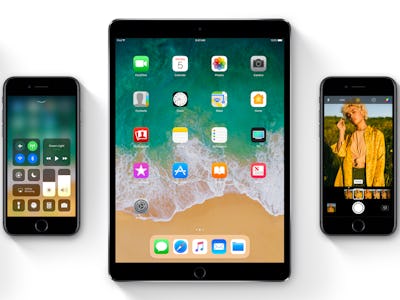 Apple
Apple took the wraps off the iOS 11 public beta on Monday, just under a month after announcing the upcoming software release at the annual Worldwide Developers Conference. When the final version launches in the fall, it will bring a slew of innovative features to the iPad and iPhone. Fans clamoring to try out the new update may want to hold off installing this version, though.
iOS 11 isn't your garden variety update. There's a slightly overwhelming Control Center (the tools accessed by swiping up from the bottom), a redesigned Notification Center that looks more like the lock screen, and updates for the iPad that make multitasking and working with information feel closer to that of a full-size computer. A new version of Siri also incorporates machine learning to develop the app into a Her-style personal assistant.
In other ways, though, iOS 11 is a very typical release. It maintains the company's tradition of announcing a major iPhone software update each summer, running a beta program for interested consumers until the fall, then releasing the final version as an update for all compatible devices. This release cycle has revealed a lot about Apple's development process, and the perils of installing pre-release software.
Early iOS beta releases are usually not very stable. They will contain flaws, and your device may act in unexpected ways. Depending on how many third-party apps you use, you may find some apps work poorly or stop working altogether. It's important to remember that iOS 11 is not finished yet, and these bugs may not make the final launch, but they will likely irritate you and may stop you from using your phone as intended. You can downgrade to the latest stable version (provided you saved a backup of your data), but if you don't want to go through the hassle, it's probably best skipped until the final version.
Apple has a strong interest in making iOS 11 as stable as possible. Beyond the obvious point that shipping bad software reduces consumers' trust in Apple, the company is also reportedly planning to launch a special iPhone around the time of iOS 11's release. The iPhone 8 is expected to bring a new display technology, hidden fingerprint scanner and better battery life, 10 years after the first iPhone hit store shelves. If the software isn't up to scratch, though, Apple's next device launch could suffer from bad publicity.
Anyone still keen on installing the update for themselves should sign up for the beta program. By following the Apple-provided instructions, the device will install a "profile" in its settings that means the phone will download new versions of the public beta as they're released, so stability should improve over time as the final release approaches.