Why Travis Kalanick Resigning is Good for Uber Self-Driving Cars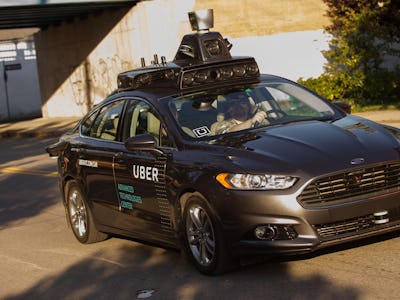 Getty Images / Jeff Swensen
Travis Kalanick's departure as CEO on Wednesday could be what the company's autonomous car project needs. Kalanick's brash management style, epitomized in his public argument with a driver, may not have helped the company partner with automakers it needs to get the project back on the road. Uber's project faces legal, technical and management issues, but by working with other companies it could pool resources and play to its strengths.
"Uber could be better positioned to create partnerships [without Kalanick as CEO]," Evan Rawley, who studies competitive strategy and organization at Columbia Business School, told Wired in an interview earlier this month.
Kalanick was a firm proponent of Uber's autonomous car project. The project makes sense from a business standpoint, as if the world moves toward self-driving cars, Uber could reap the rewards by making the transition early and cementing itself as a key player.
"It starts with understanding that the world is going to go self-driving and autonomous," he told Business Insider in an August 2016 interview. "So if that's happening, what would happen if we weren't a part of that future? If we weren't part of the autonomy thing? Then the future passes us by basically, in a very expeditious and efficient way."
But the project has stuttered along the way, and it needs a boost. A leaked disengagement report in March showed poor progress. During tests in Arizona, human minders were taking control of the car around once per mile. Waymo, which started life as the Google self-driving car project, reported that its drivers took over once every 0.0002 miles in 2016 during California tests.
Jianxiong Xiao, founder of autonomous car tech firm AutoX, was scathing of the project, telling Inverse in an interview that it is a "complete waste of resources."
"This pure marketing is probably helping them to do fundraising and keep that high valuation," Xiao said. Still a privately-held company, some estimates place Uber's value as high as $70 billion.
In February, Waymo announced it was suing Uber and Otto because the pair are "misappropriating Waymo trade secrets and infringing our patents." Waymo said Otto's LiDAR (Light Detection and Ranging) system seemed suspiciously similar to its own, which it realized when a manufacturer sent machine drawings of Otto's system that looked very much alike. Waymo accused former employee Anthony Levandowski, who went on to co-found Otto, of stealing files. The case judge, however, said Waymo lacks a "smoking gun."
It's not just legal and technical troubles. Internally, the project has suffered from bad management. Recode reported in March that 20 engineers had quit since November, and a "mini civil war" is taking place between Uber employees and those who joined through Otto, an autonomous truck company that the company purchased last year.
Uber faces stiff competition from the likes of Tesla and Waymo, but in recent months it's shown an interest in working with other automakers. It partnered with Volvo to put its autonomous car technology into the XC90 for a limited trial run around Pittsburgh and Phoenix. Daimler has also entered into a partnership with Uber, allowing consumers to order the company's autonomous cars through the ride-hailing app. It's a sign that in-house autonomy is not the be all and end all, and that the company is willing to work with others.
Kalanick's departure could end out as something of a turning point. Forced out by the board of directors following months of bad publicity surrounding management, the self-driving car project now has a chance to rebuild. If it's able to form partnerships with others working on similar projects, it has a chance to improve its technical performance. A shakeup of management could boost morale. Depending on how the court case goes, Uber could slowly position itself as a key player in the autonomous car area.