AutoX Founder Says Uber's Self-Driving Tests Are a "Waste"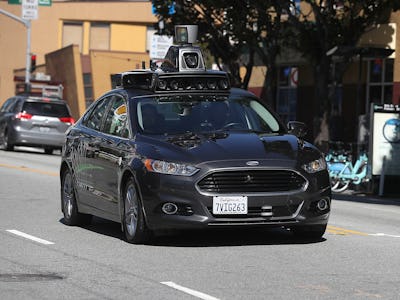 Getty Images / Justin Sullivan
Uber's attempts to develop an autonomous car system are a complete waste of time, according to the founder of AutoX, a competing autonomous car startup. Last month, a leaked disengagement report revealed that Uber engineers had to take over control of the company's autonomous cars about once every mile. While the program's early numbers aren't a fair litmus test of Uber's progress, Jianxiong Xiao, the founder of AutoX, says that the ridesharing company's testing strategy as a whole is pretty much bunk.
Xiao says Uber's problem is that its cars aren't building up enough useful data. Driving autonomously for short distances means the car is not building up information about how to handle complex situations.
"I think it's a complete waste of resources doing it that way," Xiao tells Inverse. "They're not doing any testing. I think it's more for PR purposes."
Where companies like Uber are using expensive lidar sensors, Xiao's company is building an autonomous car system that uses only cheap cameras. To test his system, Xiao has been putting it through its paces at turns and intersections. Like Uber, AutoX is one of the 30 companies licensed to test autonomous vehicles in the state of California. Xiao's team has been collecting data in the state, with a view to launching a beta of the company's system in the next couple of years.
Here's a video of AutoX's in-development system in action:
Xiao claims the quality of miles matter more than the quantity. "For me, the Uber way of doing things, engineering wise, is really not helping anything," he says.
Uber has been running its own autonomous car system since September 2016, when it started running trial services in Pittsburgh. The technology could dramatically change Uber's business by removing the driver from the equation.
Uber's leaked disengagement report, which covered the week of March 5 during testing in Arizona, shows a human took over once every 1.3 miles on a loop around Arizona State University. Scottsdale Road was even worse: there, a human took over from the computer once every 0.67 miles.
"This pure marketing is probably helping them to do fundraising and keep that high valuation," Xiao says.
Uber has not given an Initial Public Offering, or IPO, of its stock, but some valuations say the company is worth over $70 billion.
Uber declined to comment on Xiao's claims when asked for a response.
At the time of the leaked report, though, a spokesperson told Inverse that autonomous car reports can be inconsistent, as automakers have different standards for measuring takeovers. Waymo, which started life as the Google self-driving car project, only measures safety disengagements done in an emergency.
Uber's report covers all disengagements, including situations where the human wants to take over, but doesn't necessarily have to. However, the company is returning to California for its autonomous car tests, and when it does so, it will be required to produce full disengagement reports to the DMV.