Uber Just Opened Up Its Platform to Independent Self-Driving Cars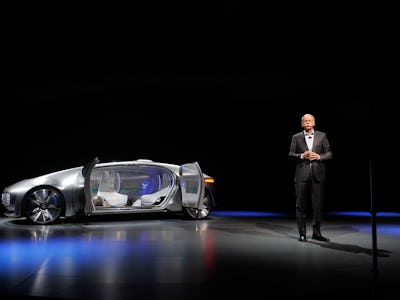 Getty Images / David Becker
Uber is already experimenting with autonomous cars of its own, and now it's ready to let independent automakers use its ride-sharing platform to own and operate their own fleet. Uber announced Tuesday that Daimler automobiles will be the first participant, once it manages to get an autonomous car on the road.
The partnership is a different kind of agreement for the ride-sharing service, which has paired up with VW and autonomous Ford Focuses in the past, but never agreed to open up its platform to an independent fleet of vehicles. Previously, it used modified vehicles to test autonomous hardware, rather than using fully autonomous vehicles designed and built by another manufacturer. It also signifies the beginning of a new era for automakers and ride-sharing services, as partners in an economy that appears to be moving away from car ownership.
Daimler has been aiming to be more than a car company for a while now. On a panel at the Axel Springer NOAH 2016 conference last June, Dieter Zetsche, the CEO of Daimler, mentioned that part of surviving as an automaker means being part of mobility, and not just making cars. This has been a fear of automakers for a while, with the Boston Consulting Group suggesting that with the rise of autonomous cars and ride-sharing services automakers should partner with ride-sharing companies to battle a decrease in car purchases.
Uber is certainly capitalizing on these anxieties. As a member of the panel, Uber CEO, Travis Kalanick, said that although he wasn't interested in Daimler being an investor in the company, he saw financial value in a possible partnership. Uber's move to allow Daimler to use their platform and operate the cars themselves is consistent with a view Kalanick framed on the panel:
"It's for us to work with the folks who make cars. Cars are not going away anytime soon, and companies like Uber are not going to be making them, and so we want to partner with the best manufacturers in the world so our customers — the riders — ultimately can have a great experience, a great mobility experience getting around cities."
With the partnership with Daimler, Uber is opening up a way for automakers to continue to be relevant in the face of fears about decreased car sales. Partnerships between car companies and ride-sharing services are increasing already, and with the arrival of autonomous cars, it's a smart space for automakers to move into. The only hurdle is making sure that Daimler autonomous cars don't get into traffic scrapes while carrying Uber passengers, like the autonomous VW that ran a red light in San Francisco.