Biggest 'Pokémon GO' Update Ever Overhauls Gyms and Adds Raids
You won't see more than one of the same Pokémon at a gym anymore.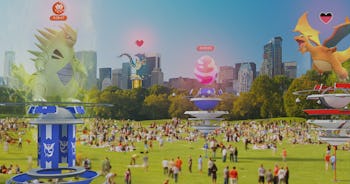 'Pokémon GO'
As Pokémon GO ramps up the celebrations surrounding the one-year anniversary of its incredible release, developer Niantic has plans to release the most ambitious update to the game ever — and it'll roll out some time on Monday, June 19. They'll be adding new mechanics to the Gym experience, including a co-operative Raid experience that will allow trainers to team up against mega-powerful Pokémon.
Gyms will get what's being called a "major facelift," which will ultimately make hitting the Gym more accessible, even for more casual players who typically don't even bother with Gyms due to difficulty. Among several other tweaks, the so-called "heart of the update" will be a "motivation meter" applied to all Pokémon assigned to slots defending a gym.
Each Pokémon assigned to a Gym will now have to be unique — meaning that you won't see more than one Charizard or Gyarados or other powerhouse-in-residence. In addition, any assigned Pokémon will see its motivation meter deplete over time and as they lose battles, ultimately resulting in a temporary loss of CP that will make it easier for enemy teams to take over Gyms.
Players will also now be able to loot Gyms for items much like they do with PokeStops. Among the loot will likely be the new Raid Passes, which can be used once per day to participate in Raids.
Raids will take place at Gyms and feature a 20-person co-op battle against "an extremely powerful Pokémon known as the Raid Boss." Though the official blog includes images of a Tyranitar and Alakazam as Raid Bosses, in all likelihood, the new Raid mechanic will be how Niantic introduces the long-teased Legendary Pokémon into the game.
Most of these updates will be downloadable some time on Monday, with full Raids rolling out slowly over the next few weeks.
For more information about the latest updates, check out the Pokémon GO blog.