3 Ways The CW's "Arrowverse" Shaped DC Comics
From racebending characters to giving the Green Arrow a cool costume, here's how the Arrowverse has influenced the DCU.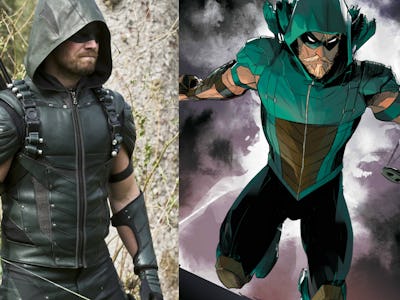 The CW, DC Comics
Since its very beginning in 2012, DC's interconnected serial dramas on the CW have created a passionate fandom who discover classic comic book characters and mythologies as they've been introduced in live-action TV. Arrow, The Flash, Supergirl, and especially Legends of Tomorrow have made once-obscure characters into household names (at least for households that adorn their shelves with Funko figures), and in turn, the rest of DC's Multiverse has lifted some of its inspiration.
Let's make it clear: The comics are still king, but the accessibility and popularity of these TV shows have shaped parts of the DCU in some way, shape, or form. Here are just three ways the Arrowverse has changed the DC Universe.
1. Racebending Firestorm, Iris, and Wally West
If there is one fault in the many decades of American comic books before the 1970s, it's that comics were overwhelmingly straight and white. Few characters of color, let alone female characters of color, existed on the page. (And queer comics characters is a whole other story.) Things began to change during the Bronze Age, and exponentially more so in the current Modern Age, though there's still plenty of roads to be paved. But in the mass adaptation wave to live-action TV and movies, it's still a question if characters should "stay true" to the source material or reflect the spectrum of the ticket-buying audience of the modern age.
There's not one broad solution, but in terms of The CW's Arrowverse, racebending characters like the Wests into a black family or replacing Ronnie Raymond (Robbie Amell) in favor of Jax (Franz Drameh) has successfully reset the image of these characters in the fans' imaginations.
In DC Rebirth, Wally West — aka Kid Flash — is now a young black teen. In the DC Extended Universe, a fan-run campaign to "Keep Iris Black," contradictory to the character's original Caucasian portrayal in the comics, won over Warner Bros. casting to hire Kiersey Clemons to portray Iris in Justice League. And in the popular Injustice 2 video game, the no-name Firestorm now features a black Ronnie Raymond in a very pivotal role in the game's narrative.
Of all the legacies the Arrowverse is leaving onto the DC Universe, it's that changing characters to be more inclusive isn't an outrageous ask. There's no reason why Iris West should be white or black — so why not choose the most inclusive route? This is a great thing.
2. Green Arrow's Costume
Not as significant but no less eye-pleasing is the Green Arrow's current costume in the "Rebirth" DC Universe. Introduced in 2016 by artist Otto Schmidt, it's very clearly riffing off the Green Arrow's costume worn by Stephen Amell in the fourth season of Arrow.
A departure from the rugged, Robin Hood-esque attire he wore in the first three seasons, Oliver Queen became the Green Arrow in the fall of 2015, wearing new tactical gear that left his beefy biceps exposed. His costume changed again in the most recent season by adding sleeves, but what could only be described as a "tactical turtle" fits DCU's social justice warrior.
3. D-Level Characters Are Turned Into Stars
Broadly speaking, the Arrowverse has made some stars out of obscure-as-heck characters. While the Atom certainly can't rival Batman, characters like Captain Cold, Firestorm, Wild Dog, Vixen, and even Supergirl herself are enjoying more name recognition than ever.
Yes, these characters have existed in comics for many years, and Supergirl had her own movie, starring Helen Slater. But in what galaxy could Captain Cold and Firestorm be included as major characters in Injustice 2 instead of more recognized figures like Batgirl and Zod?
And DC Rebirth's Justice League of America roster is a who's who of the Arrowverse, instead of who's that? Black Canary, Killer Frost, Vixen, and the Atom all join Batman, Lobo, and the Ray, whom it just so happens will be getting an animated Arrowverse spin-off this fall.
Heck, just look at this Google Trends result for "Wild Dog" (with the associated "Comics" tag, so we're not seeing results for wild, feral dogs). You can see that, in the past five years, interest in the character spiked in the summer prior to his debut on Arrow last fall.
And here's the results of "Vixen." That first spike dates back to roughly around the time of her appearance in live action on Arrow.
These numbers pale in comparison to someone like Harley Quinn, but the point remains: These shows get people interested in characters. And that's a good thing, because there's always a library of classic stories waiting for them on the trade paperback shelf.